With the current economic situation, eating healthy nearly seems impossible. It's a common complaint: Healthy Nigerian meals are so expensive. While there's no question you can spend a ton on good-for-you fare, the fact is, there are plenty of ways to save a bundle and still eat well. Here are five delicious and nutritious foods you can enjoy for less than N500 in Nigeria.
It is normal to want a super healthy and delicious meal that doesn't cost a fortune to make. Here, I would be listing 5 amazing Nigerian meals.  I'll recommend that you give these meals a try, as each is designed to be packed full of nutrition without sacrificing taste or health. As a bonus, these meals cost less than N500 per serving. These cheap and healthy recipes are easy on your wallet and waistline.
Okro Soup
When it comes to low budget and healthy Nigerian meals, Okro soup is the perfect perfection as it is very easy to prepare and likely the cheapest soup in Nigeria. Also known as the Lady finger's soup, or locally referred to as Ofe okwuru (igbo), Obe Ila(Yoruba) or Miyan Kubewa (hausa), this soup can be made chunky or smooth and eaten alone (if you are a weight watcher), or paired with Eba or pounded yam.
To prepare  this meal, you need the following ingredients:
Okra (a medium size bowl full)
Fluted Pumpkin leaves (optional)
Stockfish
Meat (beef, chicken, turkey, etc)
Dry fish or smoked fish(optional)
Stock cubes
Palm oil
Salt
Ground crayfish, and
Pepper to taste.
You can get quantities of each of the main ingredient from the local market for N100 or below, except for meat which you can get ½ kilo from as low as N200. Throw this simple but satisfying meal together and your body and wallet will thank you.
2.   Moin – Moin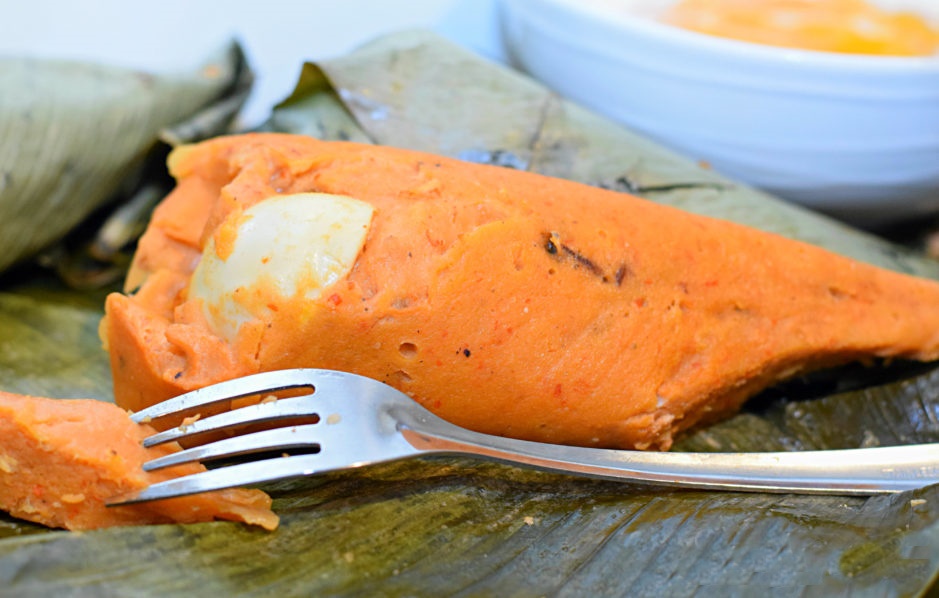 Moin Moin is one of the healthy Nigerian meals that do a lot good to your wallet. This high-protein meal will have you salivating. One of the most popular dishes in Nigeria, Moi Moi is made from pureed beans. The process of making this meal is a bit complicated, but the end result is always a delight.
The ingredients used in making this high nutrient meal include:
Beans
Onions
Red bell pepper (Tatashe)
Scotch bonnet pepper (ata rodo),
Ground crayfish
Palm oil
Stock cubes (Maggi) and
Salt.
Purchasing all ingredients will cost less than N500 at the local market, and I am sure some of these ingredients would be available at home. Moin-Moin can be eaten alone or paired with other meals such as Pap (akamu, Ogi) or soaked garri.
3.   Nigerian Jollof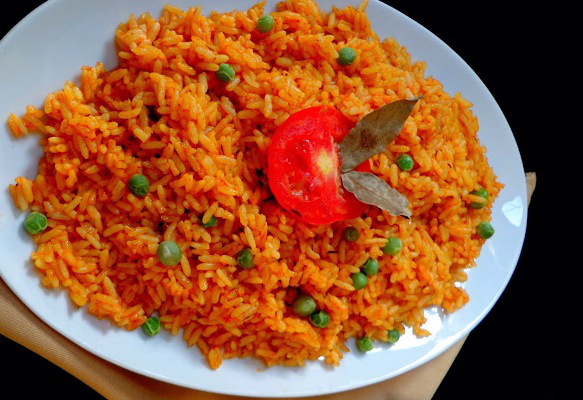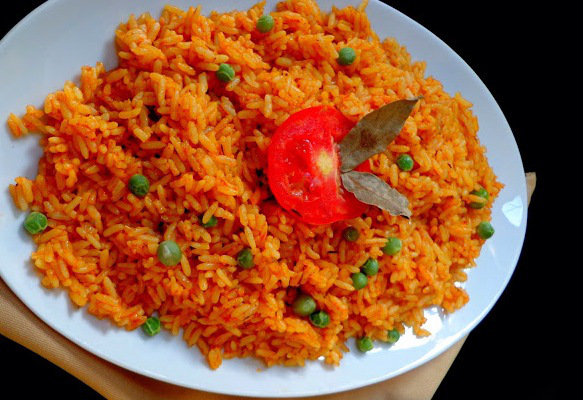 'Boring' will never be a word to describe this popular Nigerian meal. Jollof rice is one of the most simple and the easy Nigerian foods to make. It is always a favorite option for the thrifty as it is not only delicious and nutritious, it comes together with ingredients that you already have. Also, it tastes good whether served hot or cold.
To prepare this meal, you need:
1/2 Kg Chicken: costs about N300 ($1.20),
1 cup of rice: costs about N100 ($.50),
Ground fresh tomatoes: costs about N50($.25) per tin,
ground fresh pepper
Onions,
spices,
groundnut oil,
salt,
cubes of knorr/maggi and
dried crayfish: optional.
The meal takes about 45 minutes to 1 hour to get cooked, depending on your cooking methods. The end product however will have you clamoring back for seconds.  You definitely want to start with this meal if you are new to Nigerian foods.
4.   Oatmeal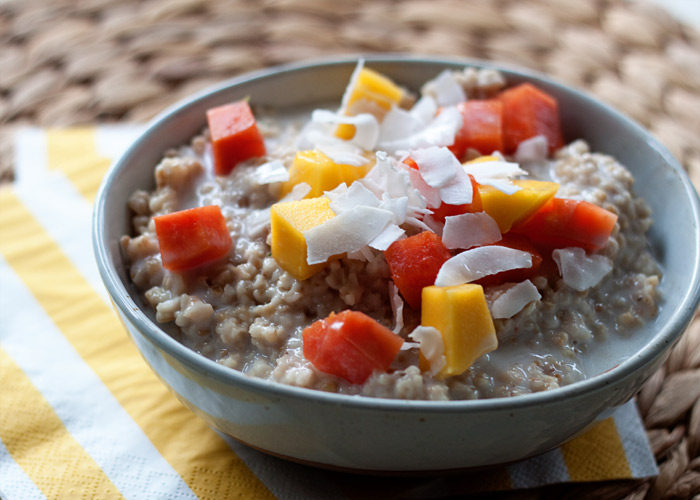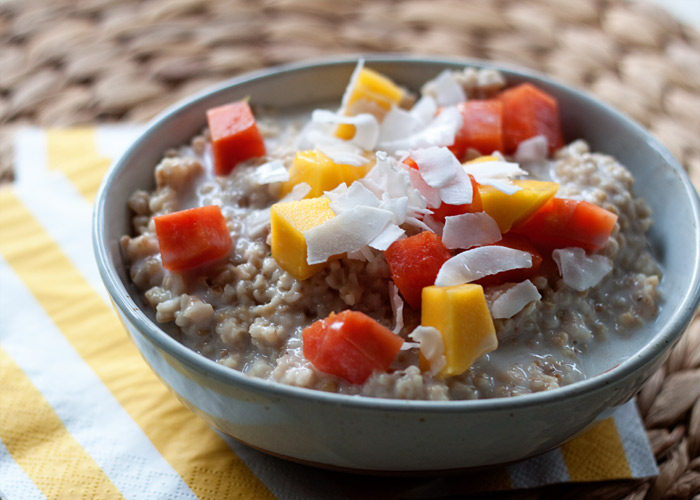 Oatmeal is one of the cheapest and fastest meals to prepare and doesn't require many ingredients. With N300 you could get a pack of oats that would last you for half a month or longer. Oats are rich sources of carbohydrates and also contain other nutrients such as vitamin B1, fiber, zinc, manganese, and protein.
For more nutritional value and taste you could add fresh peaches, chopped pecans (or your nut of choice), and cinnamon to your oatmeal. They could be well enjoyed with bean cake (akara) balls.
5.   Noodles & Egg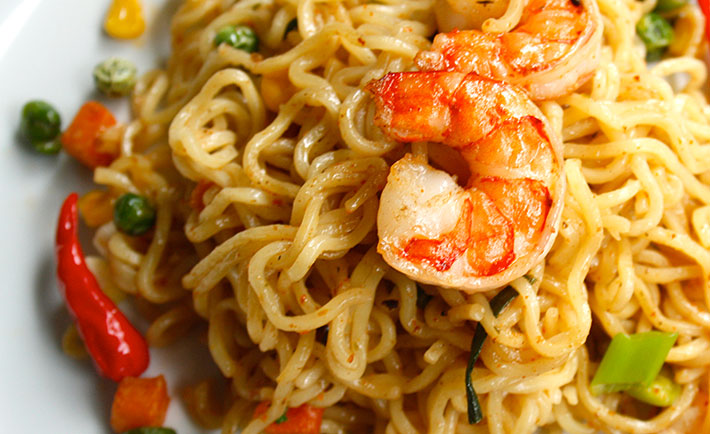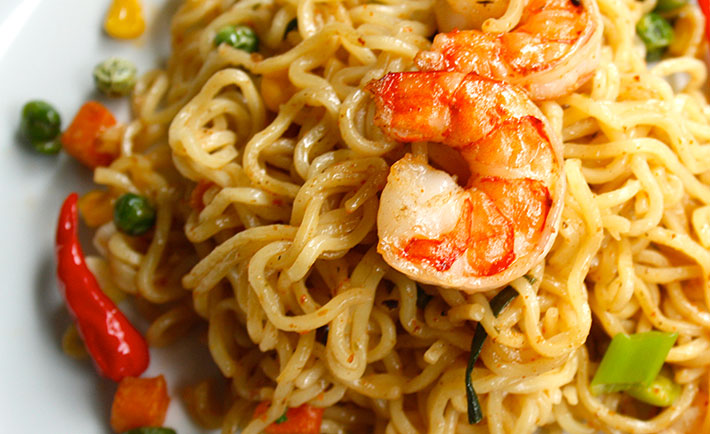 Here's one staple which most individuals don't believe is healthy. Noodles & Egg isn't only fast to prepare, it is also very affordable and possesses a good amount of nutrient.
A hard-boiled egg contains 78 calories and is a very good source of inexpensive, high-quality protein. The whites are rich sources of selenium, vitamin D, B6, B12 and minerals such as zinc, iron, and copper. Egg yolks contain more calories and fat. They are the source of cholesterol, fat-soluble vitamins A, D, E and K, and lecithin.
Nutrient content varies depending upon the quality of the wheat used to make the noodles.
With N250 you can get 210 grams of noodles and an egg.
The economy could be hard, but this shouldn't prevent you from eating healthy. These healthy Nigerian meals would go a long way to thank your wallet.