Happy New Month my people, se una don hear say our Federal Ministry of Health don helep develop one ogbonge National Operational plan to helep comot mama-to Pikin transmission of HIV (2017-2018) for our ogbonge oyinbo here? Dem talk say, the koko of this plan na to stop wetin dey spread HIV scourge for 2030.
If you never hear am, oya sidon make I nack you small tori ontop this matter…
One oga patapata at the top, Dr. Deborah Odoh,  wey be the assistant director for HIV/AIDS matter for the division of the ministry, make the matter clear for the National Conference for HIV prevention wey happen for ABUJA.
Oga dokita talk say, the operational plan na to put the roles of the private sector with the community together, to fit end the prevention of Mama-to Pikkin Transmission (PMTCT) of HIV wahala.
Oga dokita come talk say the ogbonge plan na to tidy up matter, to provide Anti-Retro Viral (ARV) drugs for our HIV positive women wey carry belle, come make sure say all unplanned belle go dey preventable for postive women dem.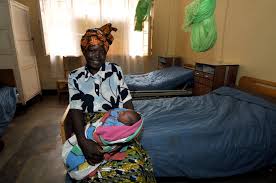 She come talk say, since 2012 wey the PMTCT program start, Naija don become one of those first countries wey adopt one revision of guidelines wey World Health Organization (WHO) recommended.
Oga dokita, talk say the government don make the health system strong kakaraka, don come provide ogbonge  commodities like ARVs, Kits, Capacity building for our health providers , come improve the health behavior of our people for naija.
The assistant director come talk say the ministry dey committed for this Task sharing abi Task shifting policy for Maternal and newpikin Health Care.
She come talk say "we dey intensify efforts to source funds helep bridge gap wey dwindling  resources form to helep support this PMTCT services matter for ogbodo oyinbo, for naija here."