Omo na true talk say first aid dey helep plenty plenty people for organisations, schools, and many places, especially for road accident o. First aid na the first assistance wey dem dey give person wey sustain injury or ailment, na just one temporary care before the real medical attention go come sele.
First aid na like, when dem treat bruise, do CPR before ambulance waka come.
Chai!, I just remember wan small tori wey I go like tell you, wey happen years back. As I just dey one corner today, dey think those days when we still dey small pikin, dey play rough play
we dey sabi play rough rough play pass dem Tom and Jerry sef…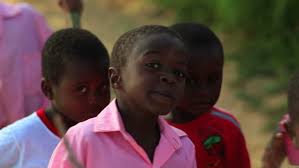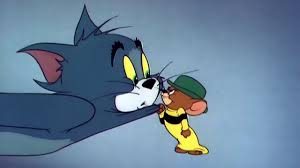 e get sometimes wey we go play sote our school uniform go come dirty die…
But e been come get one tori wey I hear of one small boy with some friends wey him dey call him goons dem.  so dem come dey play their normal rough play for their school compound, dem play sote dem no gree tire.  so the boy play forget himself, e come go mistakenly hit him head for one wall wey big nail dey, him just hear gboa for him head, like when ship hit rock.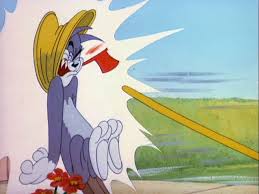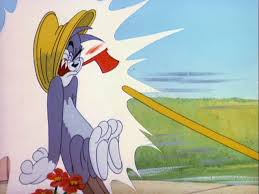 The small bros eye come dey be like say the thing dey see star, like those cartoon wey we dey watch for TV…so e come dey wonder, because the thing be like film, come be like say him dey see star.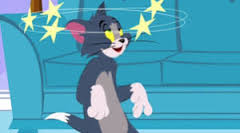 At first him turn back, come see say dem him guys dey look am. All of dem come dey tear laugh… him no come fit cry, him just lock up, dey form James Bond, so dem no go see am like one boy wey sturbborn but no strong, because him dey always proof strong and stubborn pikin.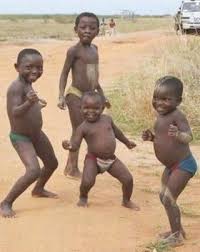 Omo before dem say jack! chai, blood don dey ooze from him head, pis pis pis, like tap wey no get control. When him see say water don pass garri o, and the way wey people come dey shout "ahhhhhh! Aunty blood blood…so the boy school aunty come rush come outside from the classroom, the first thing him hear from him aunty mouth na " Blood of Jesus, oh my goodness, you this boy you will not kill me o"! When him see say na serious gbege o… omo naxo him begin tear cry like one small baby wey dem nack ply wood for head…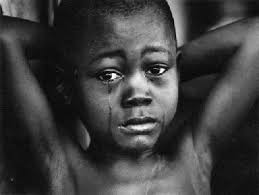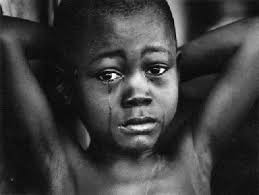 So, some school teachers come dey run come outside one by one, to see  wetin dey happen,  then few of them come dey run around to find how dem fit take stop the blood first, by then, the small bros don loose plenty blood, e come be like say him don faint, because blood don full all the body like vampire.
All of a sudden, one smart health prefect just run enter one office, sharply comot something inside one office, guess wetin him go bring? E go comot first aid kit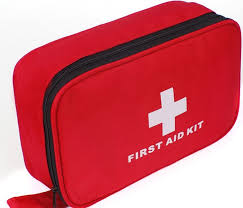 Dem do do o, come stop the blood sha.. abeg make I stop the tori here…
The thing wey I wan talk be say, e dey get some time wey serious/minor accident dey happen, whether na for school o, office o, market o, anywhere you fit think of wey dockita or health practioner no dey close. Wetin person fit do for emergency cases? Na to carry out first aid treatment first, to helep save the life of the victim first.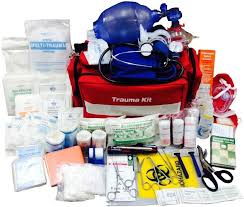 E get this first aid box wey dem dey use store first aid kits and the thing wey dey inside different. So e dey very good make person get first aid box for either your house, car, office and any organisation, no just get am, also dey familiar with the kits, to fit safe yourself and others if emergency or any gbege dey sele.
But according to wetin Red Cross Society talk, dem talk say e get some vital things wey suppose dey any first aid box.
Things like: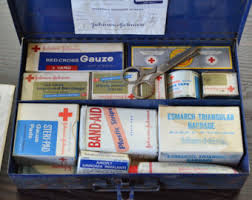 2 packet of aspirin (81mg each)
1 roller bandage ( inches wide)
Oral thermometer (4 X 4 inches)
2 triangular bandages
Tweezers and other things like that, so if you need more information, abeg click here.