Hand-washing is an essential health habit. The hands are one of the busiest parts of the human body. Being such an efficient and irreplaceable tool leaves the hands quite exposed and susceptible to infections.
From sneezing into your hands to touching public surfaces, we never can tell how much bacteria and other germs we carry. Our hands open doors for us. We flush public and private toilets with the same hands. Yet the same hands wipe our butts and turn the amala for supper, while squeezing out banga to for soup.
So, what differentiates the butt-cleaning disgusting hands from the amala turning powerhouse? You guessed right; hand-washing. Washing your hands is the best and cheapest care you can give yourself. The germs you get from carrying cash passed through so many hands could lead to some serious infections.You can avoid Acne, influenza, pneumonia and diarrhea with good hand hygiene.
Hand-washing is not just about a quick squeeze of soap or slicking a wet hand over a soap-bar and before splashing water over your hands. There are methods and techniques of effectively washing the hands. Effective hand-washing takes just about a minute, but leaves your hands a load of microbes lighter.
Even after using the restroom, lots of people barely wash their hands well enough to get rid of harmful germs. Kids especially need to be taught to wash their hands well, as their immune systems are only just developing.
The Right Method To Wash Hands
As earlier mentioned, most people, adults and kids alike, don't wash their hands well. More than just a quick rinse with soap, we present to you some steps in effective hand washing.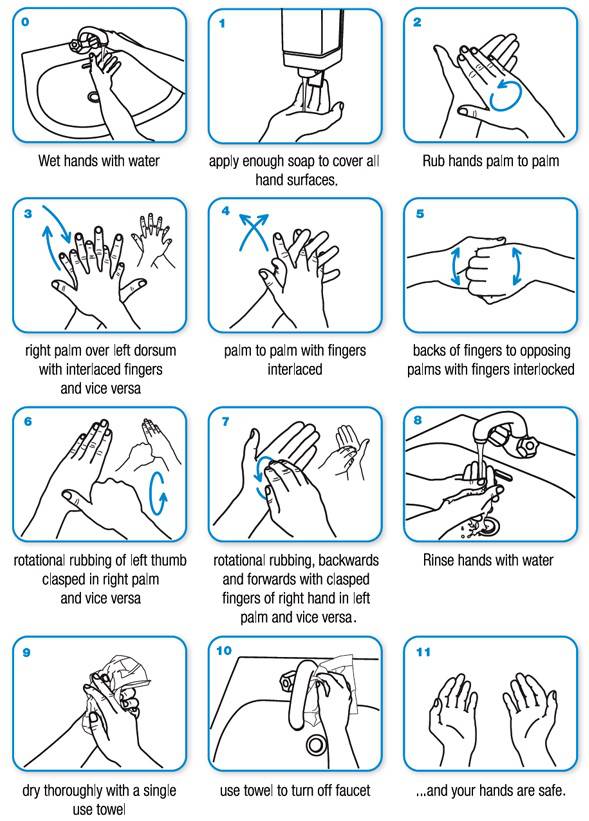 The above handwashing technique is endorsed by the WHO at effectively reducing bacteria. Soap and warm water are the best for hand-washing.
Critical Hand-washing Times During the Day
Wash your hands before touching your face; this might seem like quite an excess but our hands pick up a lot of bacteria during the day. You can get the flu/cold easily by constantly touching your eyes, nose or mouth with unwashed hands.
Before and after using the bathroom: You inevitably have to touch your privates when taking a pee. To prevent introducing foreign infectious bacteria into your body, it is advisable to wash your hands. Washing your hands after using the bathroom, whether taking a pee or a poop, is entirely non-negotiable. Doing this effectively is the most important thing. Don't just wash in a hurry but wash thoroughly to prevent introducing fecal matter orally into your body.
After cleaning up a child's bottom
Before handling fish or meat especially and all foods in general. Hands should also be washed before eating at all
Anyone responsible for caring for a child must wash their hands before preparing food for a child to eat
Why Bother Washing Hands?
Reduces occurrences of diarrhea
Handwashing reduces the spread of Influenza and other air-borne diseases
Minute improvements in height of five-year-olds were recorded with better hand-washing habits
Handwashing improves the rates of survival of infants at homebirths.
Childhood mortality rates due to diarrhea and respiratory illnesses reduce considerably with increased hand-washing.
Other Viable options to Hand-washing
Ashes; Ash or sand can be used in the situation where there is little or no water available to wash the hands. Ashes are alkaline and do a better job of cleaning than ordinary water, even though soaps are best.
Hand sanitizers: Hand sanitizers have been proven to be effective in stopping the spread of a wide range of diseases such. Sanitizers with about 60 to 95% alcohol are efficient germ killers. Drug-resistant bacteria, tuberculosis, and some viruses (including HIV, herpes, RSV, rhinovirus, vaccinia, influenza, and hepatitis) and fungi can be killed. Alcohol sanitizers with 70% alcohol kill 99.97% of the bacteria on hands 30 seconds after. They are more effective against bacteria than viruses.
Water only: When there is no soap, and all other options are unavailable, a rinse under running water is still better than none at all.
Anti-bacterial Soaps: They contain certain antibacterial components. Plain soaps aren't less effective than antibacterial soaps. Antibacterial soaps are usually no better at killing resistant bacteria than non-antibacterial soaps.
Hand sanitizing wipes which contain up to 60% alcohol can also be used and will effectively clean the hands.
Despite all this, the best option for handwashing still remains soap and warm water. The skin can't stand the temperature required to kill bacteria, therefore hot water is pointless.
Also, note that it is better to dry your hands with a paper towel/tissue than with an air-dryer.