The latest approach for the treatment of mental illnesses, chronic depression, sleeping problems, drug addiction, anxiety, and migraine done without surgery, is now in existence both in Nigeria and in the Western part of the continent of Africa.
It has being projected globally that 121 million people are suffering from medical depression out of which 48 million are actually Nigerians. Industry thought leaders reveal that out of the millions affected by mental disorder globally, only 20-40 percent are actually resistant to drug antidepressant treatments, as 33 percent reveal poor reaction. The load on the health care systems keeps getting larger, as many patients with mental disorder keep suffering from mental illnesses, despite the broad range of drug application techniques, emotional and mental health therapy measures. Numerous medications have been linked to notable adverse effects like sexual dysfunction and weight gain, which calls for a more suitable concept in treatment, as resistant depression is of the highest importance. The treatment-resistant depression is known for its latest global improvement in the management of drug addiction, which actually works via electronic brain stimulation given by an innovative medical device which is known as Repetitive Transcranial Magnetic Stimulation (rTMS).
rTMS was initially available just in Egypt and South Africa. It is non-invasive(does not require surgery) with no neurostimulation treatment or side effects and it's a new option for treating mental illnesses. It's used for both diagnostic and therapeutic purposes, as it enhances the recovery of muscles, damaged by seizure, stroke and pain. A demonstration was done in the South West zone of Nigeria for psychiatrists, and it took place in a private mental hospital in Lagos, Nigeria, called Synapse Services.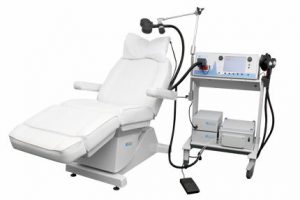 rTMS was invented in 1985 as a feasible therapy for depression, psychological and psychological disorders such as dystonia, tinnitus, stroke, Parkinson's disease and compulsive-obsessive disorder. It was first accepted in the U.S in October 2008 as a treatment for significant depression in patients who do not react to antidepressant alone. "It has being noted that rTMS would be a plus to the existing treatment offer for mental health illness in Nigeria," said Dr Victor Makanjuola, a Psychiatrist Consultant at the University College Hospital, Ibadan. He stated that unlike the electroconvulsive therapy presently in use in most psychiatric hospitals in Nigeria, rTMS doesn't have unwanted side effects, and we hope to get a better result from our patients with the use of this machine, as it is good news for patients and practitioners.
Speaking at the event which was held recently was the president of the Psychiatric Association of Nigeria, Professor Joseph Adeyemi, who mentioned that the more the option for rTMS, the better the increment benefits in mental health intervention, as the device as being shown to be successful in terms of treatment of resistant depression and substance-related disorders.