TECH is blowing my head these days. Here is another brilliant innovation called hi-tech glucose meter a.k.a Nova Max Plus Meter, which helps in measuring the level of ketones present in diabetic patients. Amazingly, this product is now in the Nigerian markets for sale.
Let me brief you a bit about what ketones are. Ketones are three soluble organic molecules produced and secreted in the liver via fatty acids during the period of low food intake, prolong intense exercise in untreated type 1 diabetes mellitus and carbohydrate restrictive diet during starvation. This implies that during the period of starvation, the liver converts fatty compounds present in the muscles and adipose tissue to sustain and give energy to the body, that's why you could fast for 40 days and you would still be alive; it's no magic. It's just the mechanism of ketoacidosis at work.
Experts have declared that this glucose meter device will help curb the death rate of diabetes in children and the adolescents. By the way, this device was introduced by Nova Biomedical in USA, in collaboration with Union Diagnostics.
During the official launching of this awesome device in Lagos, the Chief Executive Officer of Union Diagnostics and CLINICAL Services, Dr. Olusola Akinniyi dished out some vital comprehensive explanation, stating emphatically that 4 percent of most deaths are caused by the wrong measurement. This in turn causes the doctors to give wrong medications which could lead to the death of patients. That is why the introduction of this device called Nova Max Plus Meter has come at an opportune time.
More also, an Associate Professor of Medicine, College of Medicine, University of Lagos, Dr. Anthonia Ogbera, wept that 2 percent of Nigerians with diabetes die becaue of the lack of care, in one of her papers termed "Umasking Diabetes Mellitus".
Akinniyi further gave a confirmatory supporting statement to attribute to the high increase in diabetes amidst children due to high intake of junk food and lack of regular exercise or physical activities which helps the body.
"A lot of people are overwhelmed with no time for exercise, which is the reason why they must be tested regularly with this accurate device meter."
"Most of the glucose meters available can for real measure blood sugar, but their measurement isn't accurate enough because of the interference effect of other blood components in the blood stream. However, Nova Max Plus is the first glucometer that measures blood sugar level and ketones well.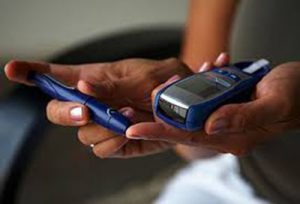 He further explained in his statement that, "A ketone test gives the extra time needed to initiate home management to prevent diabetic ketoacidosis (DKA), because excess blood glucose level is an indication that a child's care must be taken seriously during sick bays elevevated blood ketone."
"Blood ketone levels during illness can denote a change in metabolic status, even before the blood glucose rises…"
However, a senior director, International Sales, Nova Biomedical, USA, Mr Kenneth Lumm, said a trusted test result will enhance both the patient and heathcare givers to avoid the complications of diabetes in Nigeria.