It really is the "steew" season and we all are loving it. Lately we've all been of the vibe to have everything hot and spicy. However, when it comes to your rice game, not every time stew, as we really need to try something new.  You might have tried the palm fruit or banga soup of our previous recipe, its one heck of a taste buzz. But banga can do way more than just soups and palm oil. Its time to up your game with some banga rice.
More people are seeking alternatives to making rice in the 3 most popular rice dishes in Nigeria. White rice and stew might have turned the hearts of kids in the past, but not anymore. Even the almighty jollof rice doesn't inspire as much as before. But you can re-inspire the faith in rice by adding a new variety, the traditional banga rice.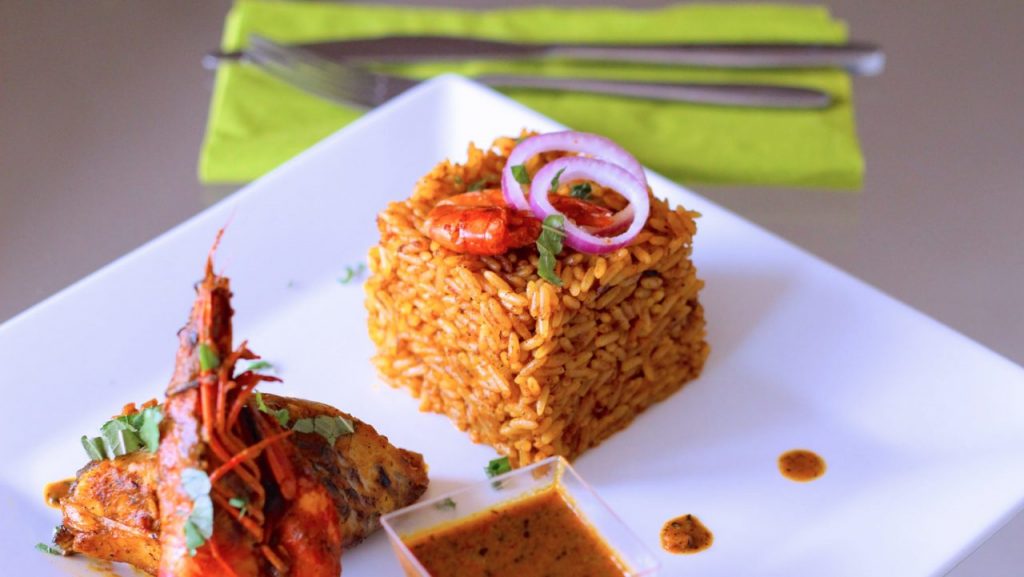 There is no need gushing about the goodness of palm nut and its other derivatives. But to take the meal even healthier we would be using some locally grown, un-polished rice and fresh banga.
Ingredients
700grams Brown destoned unpolished Nigerian rice
2 dericas of palm fruit.

Palm Fruit
2 smoked fish (preferably smoked catfish)

Catfish

1 Big onion, preferably the purple variety
2 tablespoon of ground crayfish
1 teaspoon ground cayenne pepper
Scotch bonnet pepper (to taste)
Salt (to taste)
Efirin or Scent leaves (optional)
ALSO READ: JOLLOF RICE VS. FRIED RICE: A COMPARISON OF NUTRITIONAL BENEFITS
To extract your banga, you will follow the boiling, pounding and squeezing technique or follow this link.
Preparation
Rinse out the rice several times to remove all chaff and look out for stones that could ruin your meal.
Clean thoroughly and soak smoked fish in some hot water to soften.
Grind or dice your scotch bonnet pepper.
Clean and chop onions and scent leaves, although the leaves can be used whole, which might be healthier.
Cooking Native Banga Rice
Parboil your brown rice by pouring your thoroughly washed and destoned rice in a pot of boiling water. You can lightly salt the water to add some taste. Once it starts to boil leave for about 10 minutes or till barely soft. Rinse with cold water and drain.
Pour in your banga extract with some boiling water in your pot. Make sure there is no dirt with it though.
Pour in your onions, salt, crayfish and cayenne pepper.
Bring to boil then pour in the rice.
Make sure the banga water and rice are at about the same level. You can add some hot water is this need be later.
Cook on medium heat and taste intermittently for salt.
When your banga rice is simmering with the last dregs of water put in your scent leaves, pepper and fish to cook with the rice but not for too long. Just enough to let the flavours mix but nit till scent leaves is completely wilted.
Cook till its dry and of the right texture, mix well. Turn off the heat and serve in a few minutes
Variations can be made to the recipe to fit your ideas, add some veggies, more fish or meat as the need be… Banga rice can be enjoyed in any variety of ways.
What's your favorite rice recipe?