The weather changes from time to time, and that is a normal part of the earth's environment. But each season comes with its unique impact on us.
Not only do seasonal changes affect our dressing and the types of fruits available, the weather also affects our health. Some diseases are more common during the rainy season, while others thrive in the cold, and so on.
It's scorching hot in Nigeria right now, but beyond the discomfort associated with this type of weather, there are also health implications.
Do you know that heat can kill?
According to the Centers for Disease Control and Prevention, extreme hot weather is responsible for the death of over half a million a people per year.
In 2022 alone, the UK government announced the highest heat-related excess mortality figure in people aged 65 years and above. This means that a lot of elderly people have died in the UK this year and the hot weather had a major role to play.
The elderly and very young children are more likely to get seriously harmed by heat. However, whether young, old or in-between, the hot weather can have real negative impacts on our health.
You may be thinking: "Heat and health? Are they even related?" Yes, they are.
Diseases linked with hot weather
There are a handful of diseases linked to extreme heat, but the three most common are:
Heat cramps – Muscle cramps that are more common in the abdomen or legs. They happen during or after prolonged exposure to high temperatures.
Heat exhaustion – This may present as a cool, moist and pale looking skin. Usually associated with headache, nausea, lightheaded, fatigue, or heavy sweating.
Heat stroke – Symptoms include hot, red skin, vomiting, high body temperature and possible loss of consciousness.
How to stay safe when the weather gets hot
These tips will help you.
1. Hydration is key.
This is probably the most important thing you need to pay attention to during the heat. The temperature is higher than usual, so your body is equally losing a lot more water than usual through sweat. You need to keep up with the loss by drinking more water than you normally would.
Drink water, even when you are not thirsty
Drink cool/cold water if possible, as this will relieve you of the discomfort of heat
Pay attention to your water source, keep it clean
Always have a bottle of water with you, even when you are out and about. This habit will help you remember to stay hydrated.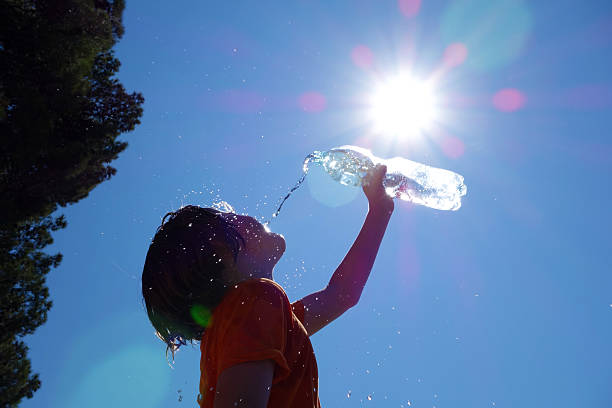 2. Sunscreen is your friend.
Even if you have never been a fan of sunscreen before now, it's time to embrace it. The amount of ultraviolet rays reaching the earth (and you) is significantly higher than usual during the hot season. Therefore, every time you step outside, your risk of developing skin cancer increases.
Get a sunscreen or a lotion containing SPF
The higher the SPF content, the better
Always apply sunscreen at least 30 minutes before you step out.
Bonus safety tips for the heat:
Take showers often to wash off excess sweat and keep your body cool.
Sleep in a well- ventilated space. Use air-conditioners or fans, and keep your windows open at night to allow cool breeze in. Remember to use nets to prevent mosquito bites.
Don't leave children in a hot vehicle, even if you leave the windows open.
Wear clothes made of light and breathable materials. The lighter the colour, the better.
Read Also: Why Millions Are Going Blind From Glaucoma…
A Word From Healthfacts
Your health doesn't have to be jeopardized because of weather changes. The power is in your hands. Drink water, use sunscreen and stay safe!