The Wife of the President, Aisha Buhari and the wife of the Vice President, Dolapo Osinbajo, on Friday visited an eight-month-old baby, Khadijah Bashir, who was raped at six-month by her mother's friend in Kano State.
Khadijah was allegedly raped by 30-year-old Muktakar Muhammad, with the assistance of his wife, who held the girl's legs apart. The baby is currently undergoing treatment at the Aminu Kano Teaching Hospital, Kano State.
Mrs. Buhari described rape as man's inhumanity to man, stressing that the culprits must be brought to book.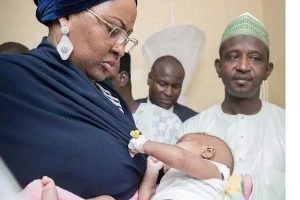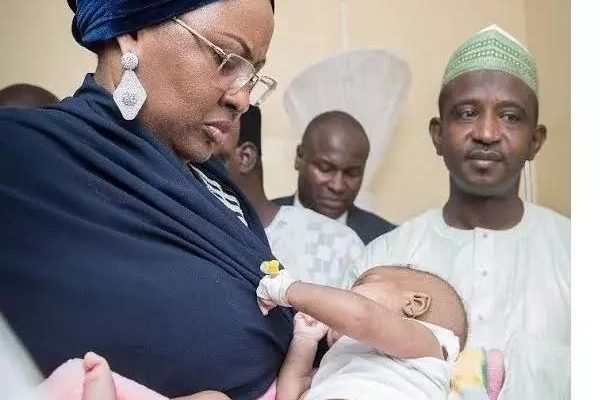 Mrs. Osinbajo was speechless at such inhumane act and full of empathy for the little girl.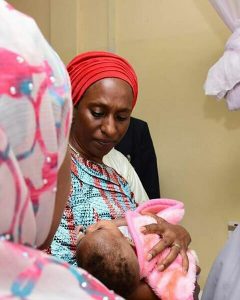 The Emir of Kano, Muhammad Sanusi II, had earlier visited the hospital and he urged security agencies and the state government to ensure that the culprits were brought to book; he promised that the Emirate Council would do its best to ensure the welfare of the child and her parents.
The Kano State Government through its Commissioner for Information, Muhammad Garba, said that it was deeply saddened by the news of the rape allegedly committed by a close confidant of the victim's family and that it would ensure that whoever is found involved would be prosecuted.
According to the statement, Kano State Governor, Gov. Abdullahi Ganduje had directed the state Ministry of Justice to prosecute "whoever is involved in this sordid sexual crime.."
The News Agency of Nigeria [NAN] reports that Section 283 of Kano State Penal Code Amendment Law provides life imprisonment as maximum punishment for rape.