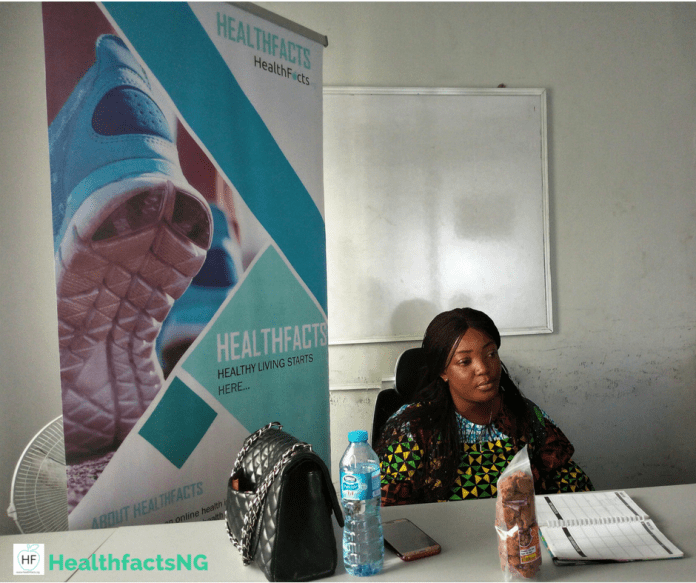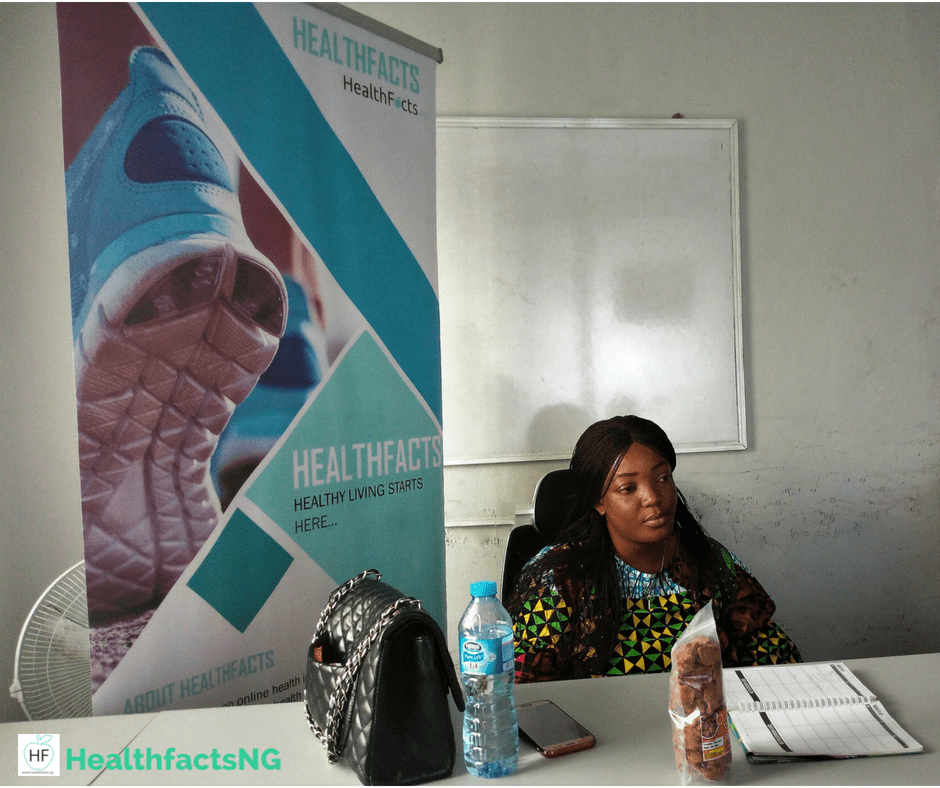 We all enjoy a handful of groundnuts now an then, and for some particularly devoted eaters, a bottle of roasted groundnuts barely lasts in their homes. unfortunately, due to the oiliness of this power-packed nuts, many have to stay away. But then comes kuli-kuli, the ultimate peanut snack, without all that oil.
Most Nigerians know of the molded peanut snack, and probably enjoy it once in a while. But a lot of people are scared of the processes involved in making kuli-kuli and would rather do without. But is it really worth doing away with the amazing benefits of groundnuts, [or peanuts, depending on your location]?
How many snacks are rich in anti-oxidants, great for the heart, memory, female fertility and male virility. Kuli-kuli gives you all these benefits and much less oil. And guess what? Anike Edibles gives you an amazing variety of kuli-kuli in 3 flavour, made in the most sanitary environment. Let's meet the brains behind Anike Kuli-Kuli.
HF: Good day ma, Can you Tell us a bit about yourself?
ANIKE: My name is Omobolanle Gbayike from Osun State, a Mass. Comm graduate, with my masters in view. A Christian, project manager and of course an entrepreneur.
HF: your name is obviously not Anike. So, how did you come about that name for your products?
ANIKE: Well when I started my food businesses, I started with Fabulous Pap, because fabulous was my nickname. But when I wanted to start I decided to go with my mother's name. My mother is an amazing woman who never questioned any of my decisions but was always rooting and praying for me. It just made sense to honor her with it. She always believed I would be successful in anything I do and never tried to force me to practice with my degree or something. I remember the day I told her, she was overwhelmed and was blessing me and praying for me into forever.
HF: When did you decide to start kuli-kuli business? How did it start, what made you think 'Oh Kuli-kuli!!!' out of everything else you could do?
ANIKE: I grew up in the North and saw the Hausa women make these things, so it was a no-brainer. We always made kuli-kuli as snacks at home so I mentioned it to my sister who agreed it was a great idea. I re-packaged it as a learned person, marketing it differently. You know most Nigerians especially these "posh" Lagosians can't stand the idea of dirty hands making their food. (Laughs)So my kuli is made in a clean environment with ultimate attention to hygiene And so, our slogan was born, "Revive your taste buds!!!"
HF: What was your starting capital for the Kuli-Kuli business?
ANIKE: I started with exactly ten thousand naira (N10,000). I recall that my dad gave me and prayed for me in his car. This included the transport and everything.
HF: Do you have a specific preference of groundnut for your products?
ANIKE: Well, most people do not know this, but there are different types of groundnut, there is the short and the long one. I prefer the long one because it gives more oil. The shorter ones have less oil and I need my oil to fry the kuli-kuli and I also sell the oil.
HF: Please take us through the process of making kuli-kuli.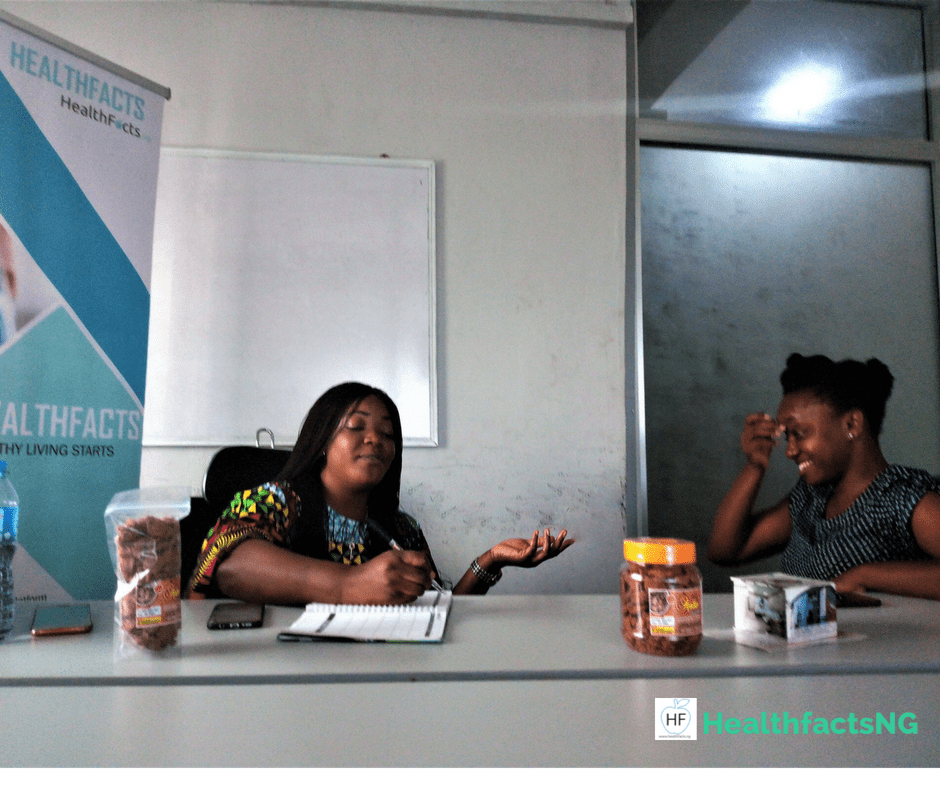 ANIKE: The process is very stressful.
I peel the back off the peanuts by stirring in a hot pan.
An extracting machine removes the oil from the groundnut. The oil is sieved into a different bowl.
We then mix with spices; turmeric, ginger and salt/sugar/honey into the groundnut after all the oil has been removed.
After this, I mold into shapes and start frying.
After frying for about five minutes, I reheat in an oven to make it extra crunchy.
Then it cools down and we package it.
We are very safety and health conscious to avoid hair, sand and dirt in the kuli-kuli. I don't work with fixed or painted nails and wigs or braids to prevent contamination.
HF: How do you get your groundnuts?
ANIKE: I get straight from the farmers and they know I like it fresh. Although, I still have to dry it and stuff. So, as far as it gets to me in good condition and not  smelly or moldy, I'm good to go.
HF: Do you use preservatives?
ANIKE: No, we don't, our kuli-kuli is 100% natural. It is free of any chemical additives.
HF:What are the spices you use and what, you know, 'something extra' do they add ?
ANIKE: My favourite spice is turmeric, I add it to basically everything I make and eat. Kuli Flavours I make are sugar, honey and salt. I started originally with the sugar and honey spiced. A particular customer couldn't take the sweet ones because he doesn't like sugar. So, I thought about it and, not wanting to lose him as a customer I decided to try out a salt only batch. He loved it! And, so did his family. Before I knew it, the salted kuli-kuli was flying off supermarket shelves while the honey and sugared ones were still there. It's particularly better for diabetics and obese people or those with high blood sugar.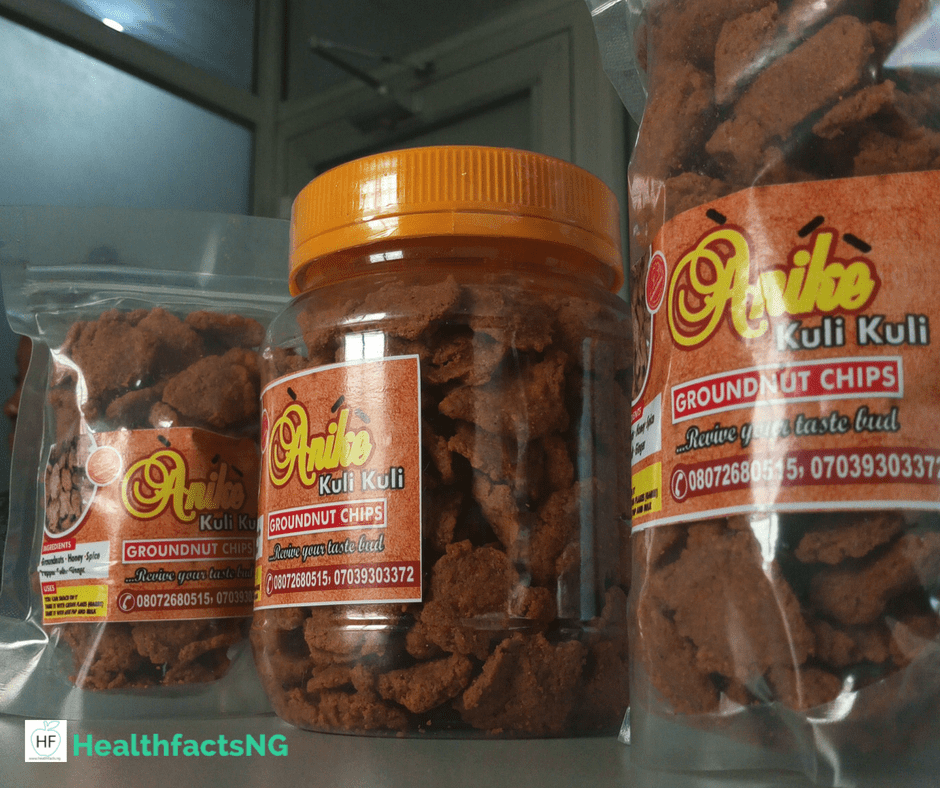 HF: What technological innovations have you used to ease your production and make it healthier?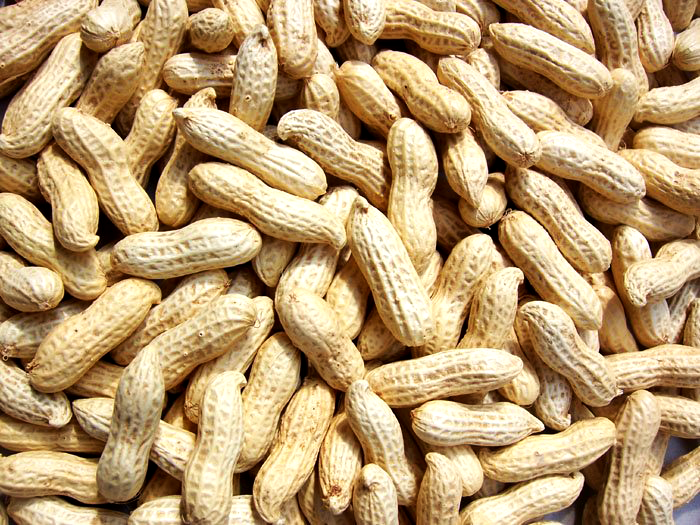 ANIKE: Traditionally kuli-kuli is made with the hands, grinding in a mortar, squeezing out the oil manually. That's why many people say they don't want to eat road-side kuli-kuli. So, of course I have to meet the sanitary expectations of my high-end Lagos people oh! Can't come and disgrace myself if someone wants to check out my production room and its looking dirty and all unnatractive. I have my engine room with a grinding machine, my extracting machine and my packing and sealing machines.
HF: How do you manage Human contact?
ANIKE: Most of the processing is mechanized. The only human contact is me adding the spices, frying and the packaging. We seal very tightly in a resealable zip-lock so as to help our customers retain freshness after opening it. The plastic containers are also sealed with some plastic round the lids to avoid people opening it and closing back as it happens in supermarkets. So you know what you are getting is fresh and yours is the first hands to touch it.
HF: What affects the taste of kulikuli?
ANIKE: The real deal of kuli-kuli is its crunchiness so that's what affects the taste. Aside from spices that are added to it. Once it's soft it becomes kilichi and is no longer kuli-kuli.
HF: What are the health benefits of kuli-kuli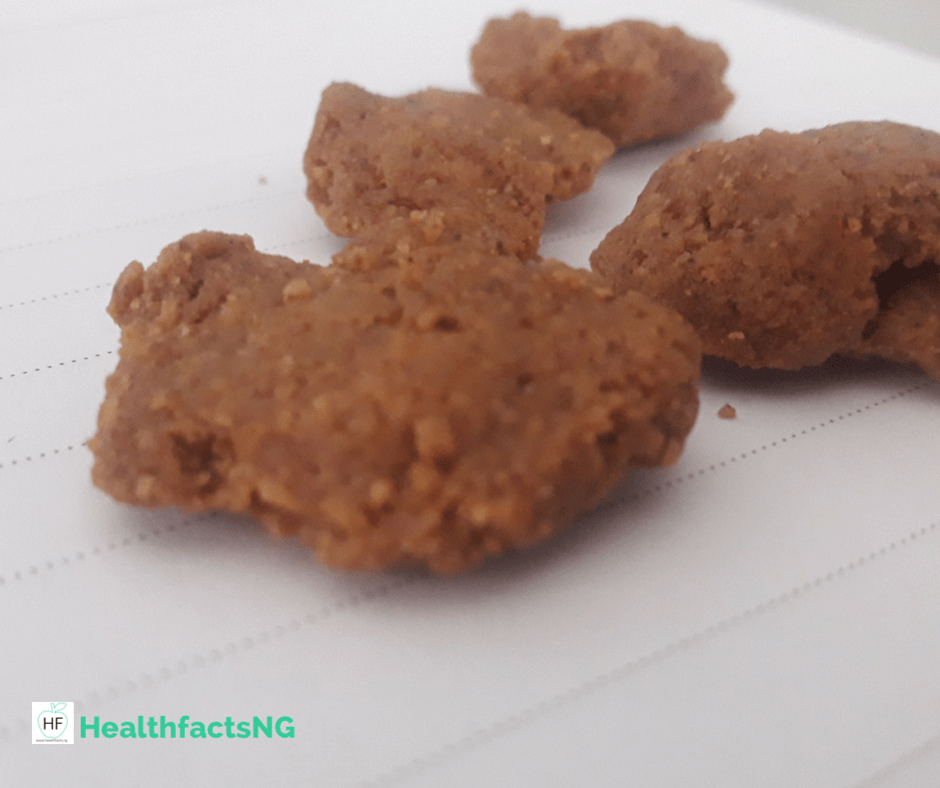 ANIKE: Since its made from groundnuts, all the health benefits of groundnut are gotten in kuli-kuli and with less oil. It helps in
Weight-loss: Groundnut contains copper which helps in lowering bad cholesterol levels.
Diabetes: Groundnuts have plenty manganese that helps regulate blood sugar.
Female fertility: Groundnuts contain folate that not only increase fertility but reduce the chances of a neural birth defect in the child by about 70%
Male Virility is also greatly enhanced by nuts.
Heart disease and cancer: Contains Phytosterol or Beta-soitosterol, a component that protects the heart against cholesterol absorption and also limits tumor growth.
Fight depression: Groundnuts contain a certain compound, Tryptophan which helps in producing Serotonin. Serotonin is responsible for mood stabilization and higher levels help to improve the mood.
Combats memory loss: Peanuts contain vitamin B3 also called Niacin which boosts both memory and brain function.
ALSO READ: GO NUTS ON THESE FOODS TO IMPROVE YOUR SEX LIFE
HF: How do you enjoy your kuli-kuli?
ANIKE: I enjoy my kuli-kuli with pap, I break it into the pap and it tastes amazing. My entire family enjoys pap and kuli-kuli. Kuli-kuli can be enjoyed with basically anything, garri, pap, even on ice-cream. But its best enjoyed as a healthy snack on its own.
HF: Where do you source your products from?
ANIKE: All my products are naturally grown Nigerian farm produce. They are freshly made from the farm and processed by me with absolutely no additives. Enjoy the goodness of whole grain food and healthy unprocessed foods straight from the farm as they are healthiest options.
HF: What keeps your customers coming back?
ANIKIE: My customers keep on coming back and asking for more because I believe I have been able to keep my promise to "Revive their taste buds!!!"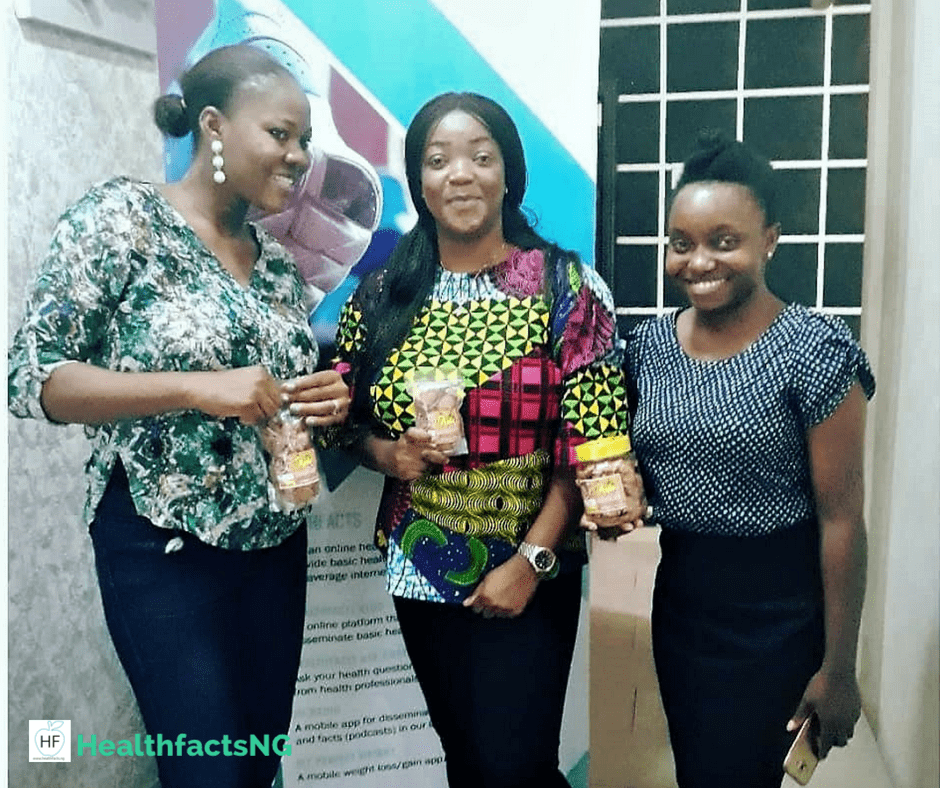 HF: How long can Anike kulii-kuli be kept?
ANIKE: Kuli-kuli can last up to a year as long as its kept in an airtight pack.
HF: It has been wonderful having you here with us ma'am. And we have sure enjoyed and learnt a lot from you. We hope to see more of Anike Edibles in the nearest future.
ANIKE: Thanks for having me here. It has been my pleasure.
So there you have it folks, you can enjoy the sweet healthy kuli-kuli without fear of dirty hands or all what not.