You and I know that we all have been blessed with different body types. Some may think of their derriére as a blessing, while others would rather say their rear is a curse! I say, let's work with what you have and turn your butt into your sexiest and most loved body part!
I have outlined for you some of the most affective proven butt building exercises. Each day that it's time to train your lovely lower body, choose three exercises from the list below. Consistency is absolutely key in seeing, and feeling results.
Hip-Lift Progression
This is an awesome way to relieve tension in your lower back and work your butt at the same time. (A cushy mat will keep your tailbone from crying afterward.)
Do it: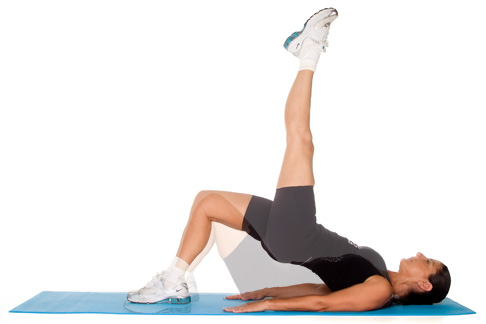 Lie on your back with your arms at your sides with your knees bent and your feet on the floor.
Lift your hips toward the ceiling. Hold for 1 count, and then lower back down.
Repeat the lifts for 60 seconds, squeezing your glutes and hamstrings at the top of the range of motion. Be careful not to overarch your spine.
To make this exercise more difficult, extend one leg at the top of the lift. Keep your thighs parallel and hold the lifted position for about 5 seconds.
Keeping your hips up, place your foot back on the floor and then lower your hips.
Repeat this exercise for 30 seconds; switch sides and do the move for another 30 seconds on the other leg.
The, um, lower, looser part of my butt takes a beating from this move. Thankfully.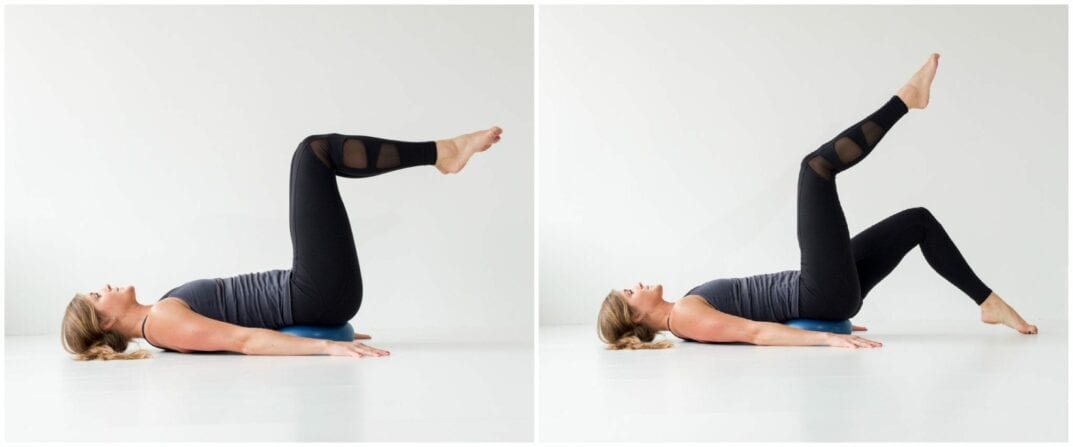 Do it:
Lie on the floor with your arms on your sides.
Lift your feet, bending both knees to 90 degrees so your thighs are perpendicular to the floor.
Now slowly and quietly tap your left toes to the floor, then your right.
Alternate tapping feet for one minute.
If you feel any lower back pain, don't bring your toes all the way down.
Single-Leg Front Raises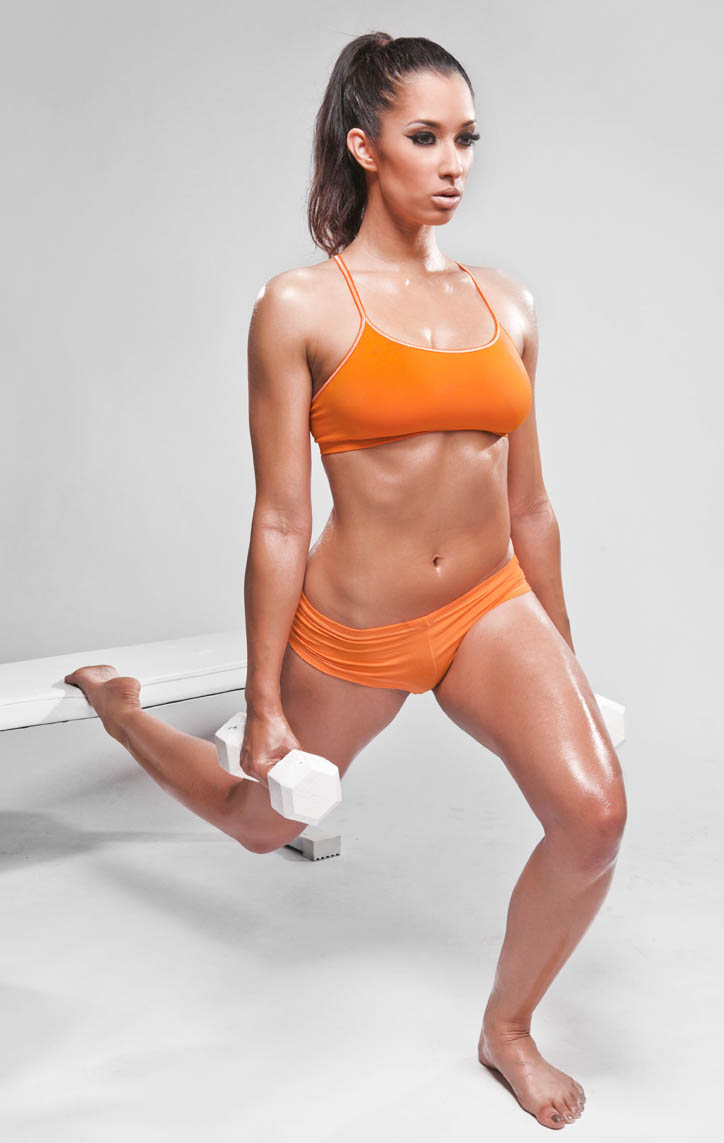 Balance! A solid thigh stretch! Glute tightening! This is a multi-reward move that requires less coordination than you might think.
Do it:
Stand with your feet hip-width apart, holding a 5-pound dumbbell in each hand.
Bend your right leg and raise it about 3 inches off the floor.
Extend both arms in front of you at chest height and your palms facing down.
Keeping your arms straight, raise your left arm above your head and hold for 3 counts, then return to chest height.
Continue alternating arm raises until you've done 8 total, 4 reps on each arm.
Now switch legs, doing 8 more reps standing on your right leg.
You are strong. Your quads and butt are toned (okay, getting there). You will not fall as you attempt this powerhouse move.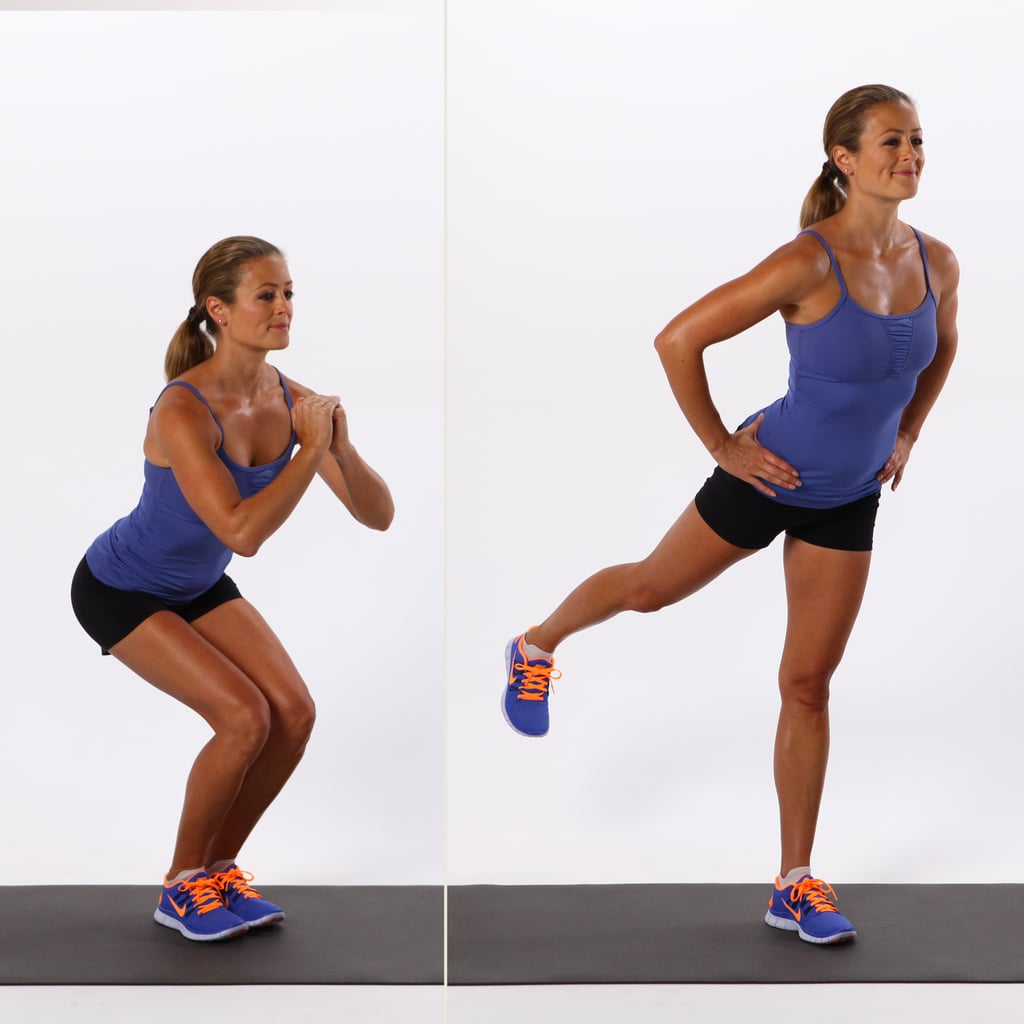 Do it:
Stand with your legs shoulder-width apart.
Sit back to a squat, bringing your fists close to your chin.
Then bring your left leg straight behind you while extending your arms forward.
Return to the squat position, then repeat on the other side.
Continue alternating sides for one minute.
As you squat, remember to keep your weight back on your heels.
When extending the leg behind you, keep your hips square — don't twist them toward the side.
Single-Leg Squat with Towel
This targets that messy undies spillover area between the very back of your bum and the lower part of your hips. You don't have that? A double scoop for you then, fitness queen.
Do it:
Stand with your feet together and place your right foot on top of a folded towel.
Shifting your weight to your left leg, slide the towel out slowly to your right.
Then slowly return to the start position.
Work this side for 30 seconds, keeping your elbows bent and your fists together near your chin.
When you squat, your left knee should bend between 45 and 90 degrees.
After 30 seconds, switch legs and do the squats and slides for another 30 seconds.
Dumbbell Squats
A simple way to kick off even a quickie workout, these squats are powerful little moves. Over time, increase reps and dumbbell weight to amp them up.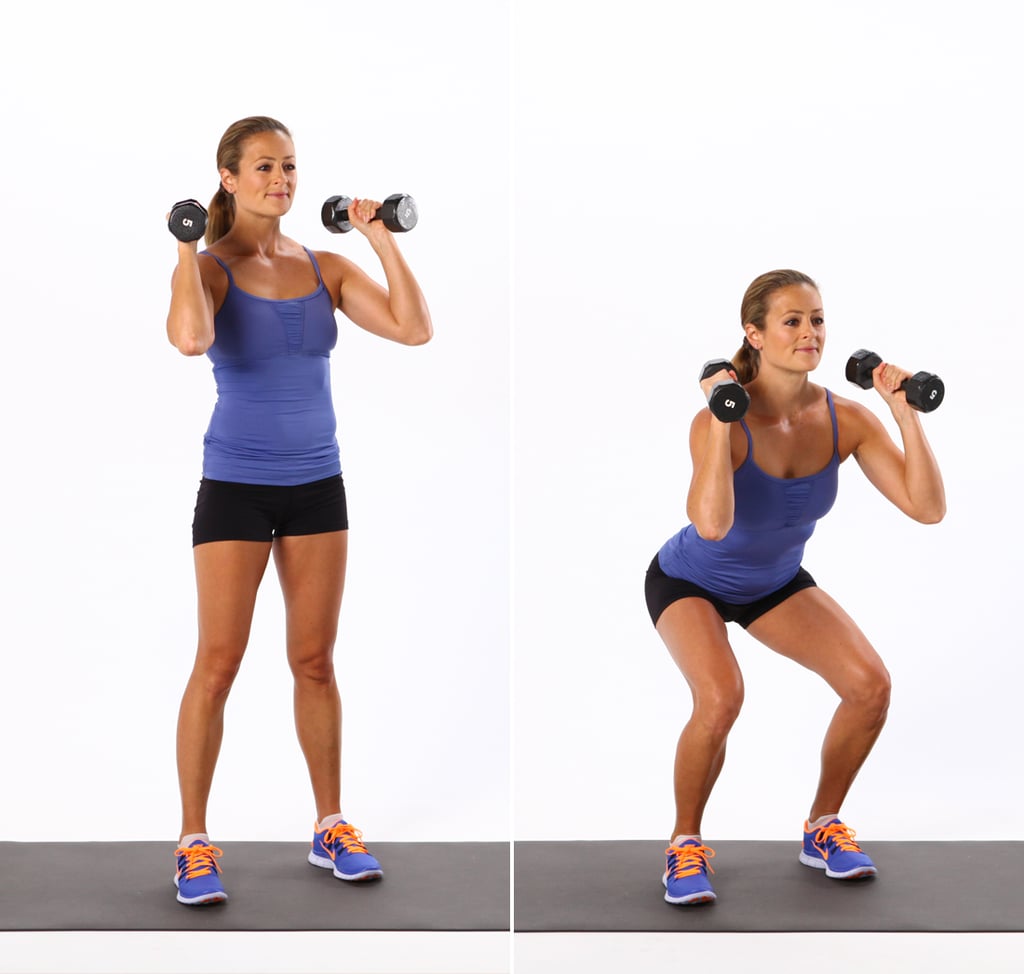 Do it:
Start with your feet shoulder-width apart and 8- to 10-pound dumbbells by your thighs.
Squat down as if you were going to sit in a chair, keeping your weight over your heels.
Squeeze your glutes as you return to the start position.
Do 15-20 reps.
As you continue, keep the weight in your heels, making sure your knees do not pass forward of your toes.
For a bigger challenge, try it without the weights, jump explosively, and land in the squat position.
Explosive Lunges
I would typically shy away from anything that referred to my bum and any explosions, but this move gives me an awesome stretch through my glutes while testing my balance and coordination and patience.
Do it:
Stand with your feet together and your hands on your hips.
Then lunge forward with your right leg.
Jump up, switch legs in midair, and land with your left leg in a forward lunge.
Continue these explosive lunges, alternating sides, for one minute.
Keep your fists up in front of your chin and push off the floor with both feet. Your front knee should be bent 90 degrees and align over your ankle.
Barbell Squat
Squats are an excellent and proven way of training your gluteus maximus (butt). You can add resistance by performing them while holding dumbbells in your hands or with a bar across your shoulders. If you opt for the bar (advanced), make sure you have a spotter unless the resistance is very light.
Varying the width of your feet will change the emphasis of the exercise. The closer together your feet are, the more your quads (front of the thighs) will work. As you move your feet further apart, you'll feel the exercise more in your hips and butt. You should always have someone check your form to be sure you're doing squats properly.
If you go to a gym, the leg press machine may be easier to use than doing squats with a bar, and it attacks the same region.
Final Points
Before I let you hit the gym, there are a few points that are important to know.
You can't choose where you gain weight. If you start eating more and lifting weights, there is no guarantee that your butt will be the area reaping the benefits.
The shape of your butt is primarily based on genetics. Looking at your parents or other relatives you will probably notice that you have inherited some of their genes.
Doing lower body exercises (along with upper body training and cardio) and eating more calories than you burn can help you build muscle but your genetics will decide how much your butt can really change.
There isn't one magic exercise that will make your butt change. Consistency in the gym paired with a nutrient-packed eating plan with adequate amounts of protein will be your keys to bringing out the best your glorious glutes have to offer!