Did you know? – According to the World Health Organization (WHO), "Lung cancer is the leading cause of cancer-related death in the world". You or someone you care about may have been diagnosed with this illness. Perhaps, you are just curious as you have heard about this disease on a number of occasions. It's World Lung Cancer Day today and you will get to learn more about the disease and how it affects the body.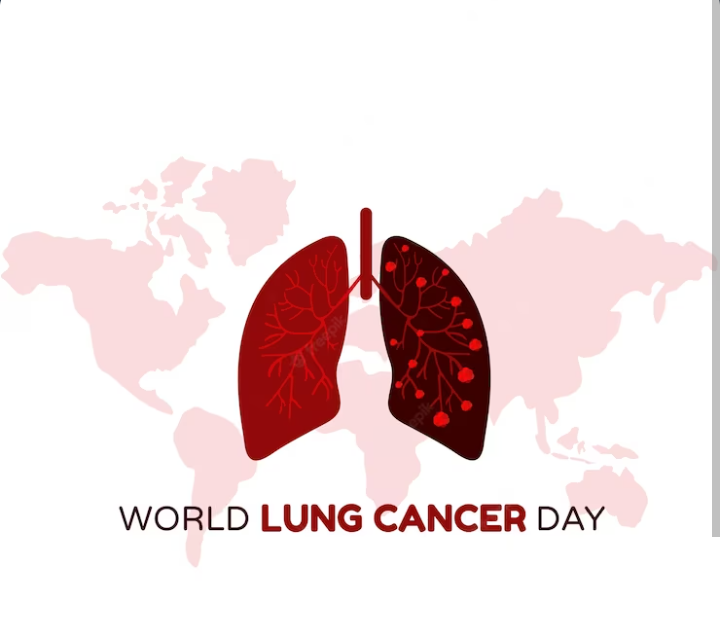 What are the lungs?
The lungs are a pair of organs inside the chest that allows breathing. We inhale oxygen (a gas needed by all cells of the body), and exhale carbon dioxide (a waste gas from bodily processes). This gaseous exchange takes place in tiny air sacs in the lungs called alveoli.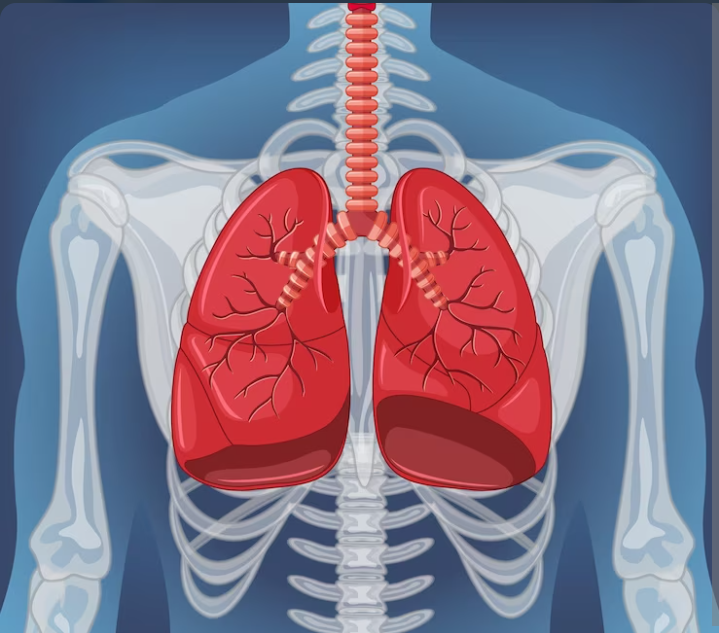 What is Lung Cancer?
It is a disease in which normal lung cells change into harmful abnormal cells called cancer cells. These cancer cells multiply to form clusters called tumour. These tumours grow and destroy healthy lung tissue.
It may spread to other body parts through the blood or lymph fluid (a natural substance that helps gather unwanted waste material from the body).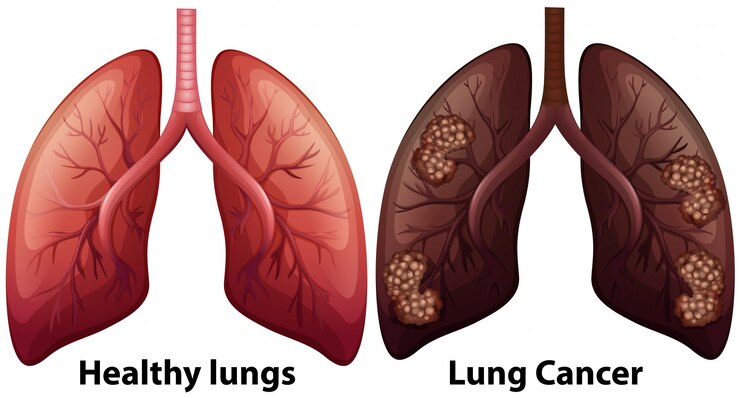 Types of Lung Cancer
There are 2 main types:
Small cell lung cancer (SCLC)
Non-small cell lung cancer (NSCLC)
They are so named because of the kinds of cancerous cells they have and their appearance under a microscope.
NSCLC is the most common type while SCLC is the most aggressive type of lung cancer. It grows and spreads more quickly.
Risk Factors for Lung Cancer
The most important risk factor is smoking.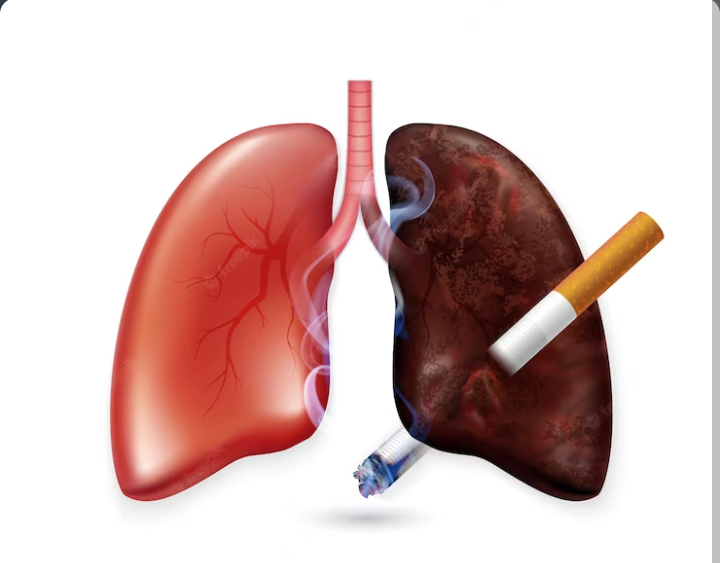 Other risk factors include:
Breathing second-hand smoke
Exposure to radon
Family history of the disease
HIV infection
Exposure to harmful chemicals such as asbestos
Air pollution
Symptoms of Lung Cancer
It may have no symptoms in its early stages. However, whenever they appear, they may include:
Cough
Chest pain
Difficult breathing
Coughing up blood
Hoarseness
Loss of appetite
Difficulty in swallowing
Weight loss
Unexplained tiredness
Facial or neck swelling
Diagnosis of Lung Cancer
If anyone has any of the previously highlighted symptoms with any of the risk factors, lung cancer may be suspected. Your doctor may need to conduct more imaging and laboratory tests to confirm the disease and determine the stage or progression of the disease. This will help to plan its treatment.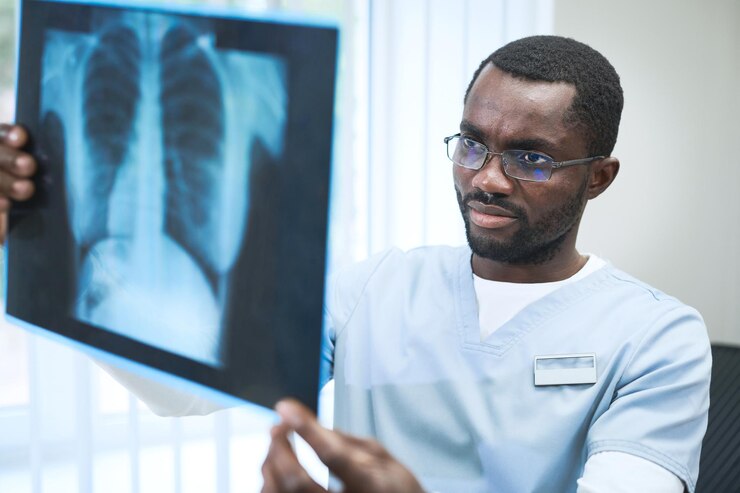 Treatment of Lung Cancer
There are numerous treatment options for lung cancer. They include:
Surgery
There are several types of surgery depending on the size and location of the tumour and the level of function of the lungs. In wedge resection, a type of surgery, a small piece of the lung is removed. In another type of surgery called lobectomy, a larger piece of the lung called a lobe is removed. During pneumonectomy, an entire lung is removed. Sleeve resection involves removal of part of the bronchus if the tumour is in the airway.
Radiation therapy
This involves the use of radiation to kill the cancer cells or stop them from growing. External radiation therapy uses a machine that aims radiation at the cancer from outside the body. Internal radiation therapy uses a substance put inside the body that gives off radiation at the cancer site.
Chemotherapy
Chemotherapy fights cancer by using drugs. These drugs may treat the whole body or a particular area.
Targeted therapy
Targeted therapy uses drugs that target specific cancer cells. These drugs prevent the cancer cells from growing and dividing. Since these drugs affect only the cancer cells, there is less damage to normal body cells.
Immunotherapy
This therapy helps your immune system fight cancer as they may hide from the immune cells that attack them.
Laser therapy
Here, an intense beam of light burns cancer tissue.
Photodynamic therapy
This involves the use of light-activated drug. Once the drug enters the body, it collects in cancer cells. Then, fibre optic tubes are put into the body near the tumour. Laser light is sent through tubes, the light activates the drug, and the activated drug kills the cancer cells.
Cryotherapy
During cryotherapy, cancer tissue is frozen and destroyed.
Electrocautery
In electrocautery, a heated instrument destroys cancer tissue by burning it.
Prevention of Lung Cancer
This includes actions you can take to lower your chances of developing lung cancer. The most important things you can do to prevent lung cancer are:
Do not start smoking
Quit smoking if you do
Avoid breathing in other people's smoke
Test your home for radon
Avoid exposure to cancer-causing chemicals at work
Maintain a healthy weight because being overweight can cause the body to circulate higher levels of certain hormones that can stimulate cancer growth.
Eat a diet rich in fruits and vegetables which a packed with substances that can help reduce your risk of cancer and control your weight.
Exercise regularly – This will help you to control your weight and reduce your risk through its positive influence on your hormone levels and immune system.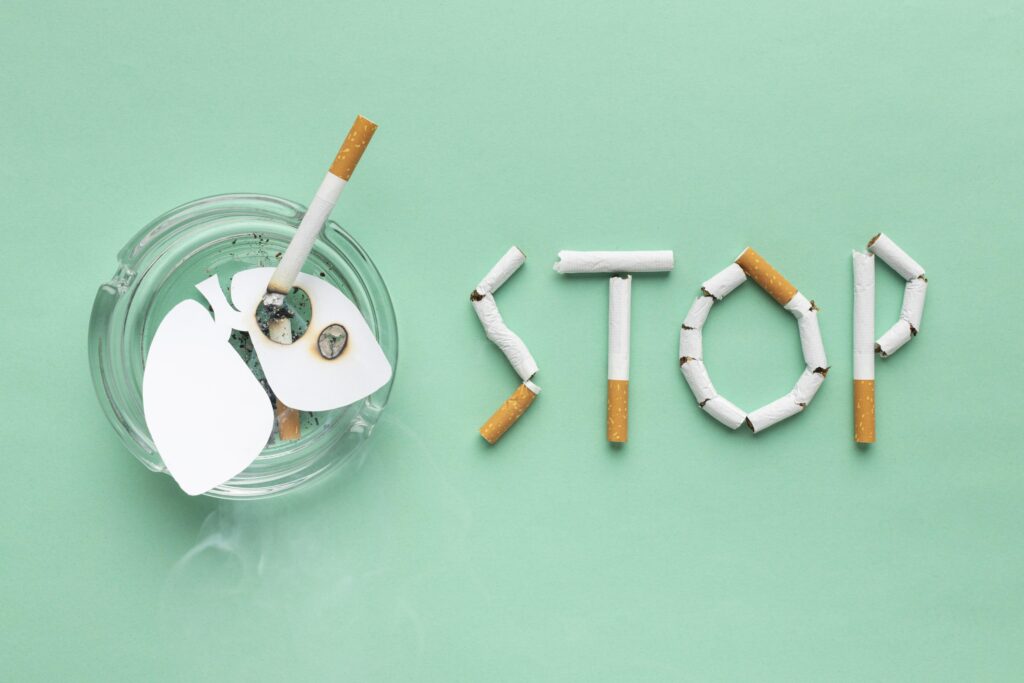 A word from HealthFacts to you
Lung cancer is the most common and deadly cancer worldwide. Also, smoking is the leading cause of the disease, responsible for over 80% of all cases. The most important way to prevent lung cancer is to avoid the risk factors and causes, especially smoking.
Till next time, stay informed and stay healthy!