The world sickle cell day draws nigh. Hence, we find it of utmost importance to bring to your remembrance what this disorder really is. So far, sickle cell disease has remained incurable. However, medicine has been able to increase the life expectancy of those diagnosed with the disease.
According to a Nigerian single retrospective study done of recent, about 50 million people are living with SCD globally. Nigeria is the epicentre zone with about 4-6 million people living with the disease (1 in every 4 Nigerians has a sickle cell trait).
Precisely, Nigeria accounts for 100,000-150,000 newborns living with SCD annually (33% of the global burden of SCD). The prevalence of SCD within the states in Nigeria ranges from 1%-3%. While Hb-SS is the predominant hemoglobin variant found in Nigeria, Hb-SC occurs sporadically, especially in the south-western Nigeria .
The Sickle cell disease picture
Sickle cell disease (SCD) is a genetic blood disorder characterized by the production of abnormal hemoglobin. This protein is responsible for transporting oxygen in red blood cells. Because the defective hemoglobin is sickle shaped, the normally round cells appear sickled.
Sequel to this, these abnormal red blood cells get stuck in small blood vessels, blocking the flow of oxygen to tissues and organs. The result of which is pain, organ damage, and a range of other health problems.
The inheritance of sickle cell disease is in an autosomal recessive manner, meaning that both parents must pass on a copy of the abnormal gene for a child to develop SCD. So, if a person inherits only one copy of the mutated gene, they will have the sickle cell trait, which typically causes no symptoms or mild ones.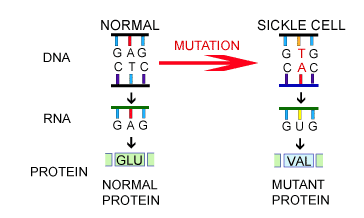 What are the common complaints?
1.Pain : This is the most characteristic symptom of SCD. It occurs when sickle-shaped red blood cells block blood flow through the small blood vessels, causing severe pain. This is referred to as crisis. Usually, pain can occur in various parts of the body, including the bones, joints, chest, and abdomen.
2.Fatigue: People with SCD often experience fatigue or tiredness due to the reduced oxygen-carrying capacity of the abnormal red blood cells. They can also complain of shortness of breath resulting from the same cause.
3. Yellowness of the eyes : As the red blood cells break down, the pigment bilirubin, from their break down can accumulate in the blood, causing yellowness of the eyes.
4.Swelling of Hands and Feet: SCD can cause the small blood vessels in the hands and feet to become blocked. This leads to swelling and pain in these areas, especially in children.
5.Frequent Infections: People with SCD are more susceptible to infections, especially those caused by bacteria, due to a compromised immune system.
6.Delayed Growth and Development: Chronic anemia and the impact of sickle cells on various organs can lead to delayed growth and development in children with SCD.
7.Vision Problems: Sickle cells can block blood vessels in the eyes, causing vision problems or even blindness in some cases.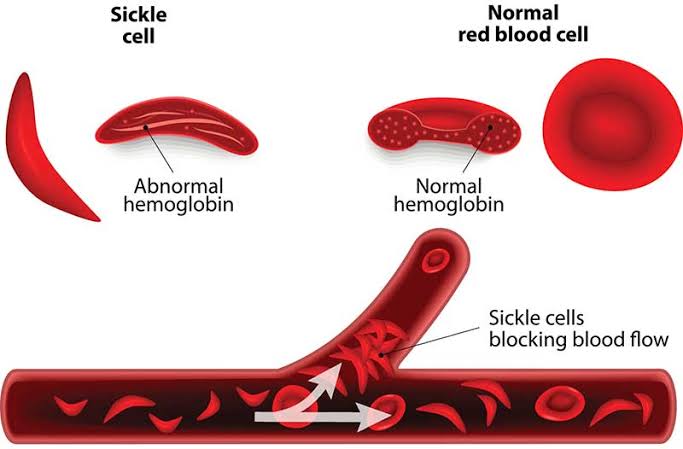 How do you know you're dealing with Sickle cell disease ?
The diagnosis of sickle cell disease typically involves a combination of clinical evaluations, laboratory tests, and genetic testing.
Your doctor will ask for your symptoms and ask to do a physical examination on you.
He or she will order for blood tests to depict your red cell count. A smear of your blood will also be examined under the microscope for evidence of abnormal sickle shaped cells.
Hemoglobin electrophoresis can be performed. This test separates and identifies the different types of hemoglobin present in the blood. Hence, it can confirm the presence of the abnormal hemoglobin.
Genetic Testing: This is also a confirmatory test for the presence of the abnormal gene.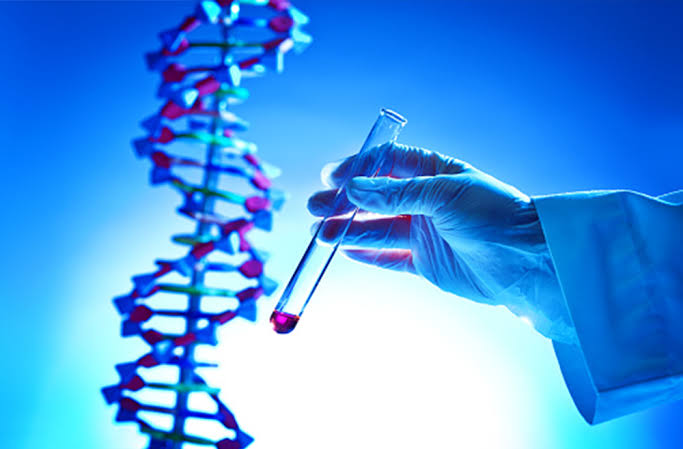 What are the "do nots" of SCD?
1.Don't ignore symptoms: Be aware of the common symptoms and seek medical help.
2. Don't skip regular medical check-ups: Regular medical check-ups are crucial for managing sickle cell disease effectively.
3.Don't neglect hydration: Staying hydrated is essential for you if you have been diagnosed with the disease. Dehydration can increase the risk of sickle cell crises and other complications. Drink plenty of fluids, especially water, and avoid excessive heat or activities that can cause excessive sweating.
4.Don't engage in strenuous activities without preparation: Intense physical exertion or strenuous activities can trigger a sickle cell crisis. If you would like to participate in sport activities, seek advice first from your doctor.
5.Don't smoke or expose yourself to secondhand smoke: Smoking or exposure to smoke, damages blood vessels and reduces the amount of oxygen in the blood. This increases the risk of complications, worsening symptoms.
6.Don't neglect vaccinations: Because sickle cell disease makes one prone to infections, it is important to receive routine vaccines. Particularly important, are the flu and pneumococcal vaccines.
7. Don't take meperidine : This pain relieving drug has a fast action. It however lowers the threshold for seizures in people with SCD. Seizures will only complicate the disease. Hence, it is advised that you take milder analgesics like paracetamol or ibuprofen.
8. Don't expose yourself to extremes of temperature : Too hot or cold temperatures create a stressful environment that for the body. And since, your body is not in its best state, this action might trigger a crisis.
9. Don't go exploring high altitudes : At high altitudes, the red cells are not fully saturated with oxygen. This low oxygen state can trigger a crisis.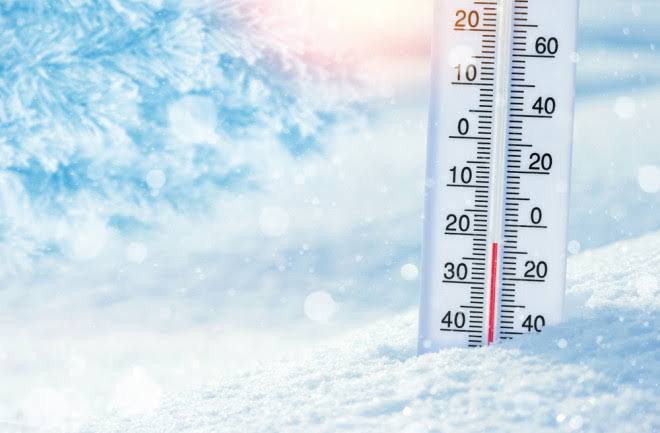 In conclusion
Currently, there is no cure for sickle cell disease. Treatment focuses on managing symptoms and preventing complications. This includes measures such as pain management during crises, blood transfusions, medications to reduce complications and manage symptoms, and preventive measures such as vaccinations and regular medical check-ups.
However, research and advancements in treatment options are ongoing, including gene therapies and bone marrow transplantation, which offer potential cures for SCD. These approaches aim to replace the defective gene or provide healthy stem cells to produce normal red blood cells. However, these treatments are still in development and not widely available.
Till next time!
Recommended: Take a short quiz on sickle cell disease.