A severe backache can interfere with any employer or employee's health which definitely would affect his/her level of productivity at work. Most individuals usually complain about back pain at work. These complaints, however, wouldn't be easily solved when the major cause still exist – their office chairs.
If there is a factor that you'll need to change to make spending eight hours a day in an office easier, it'll definitely be your chair. There is no shortage of evidence proving that being stuck in a chair for too long can increase the risk of cardiovascular disease and worsen back pain. In fact, sitting too much is even called worse than smoking. Many people who have office jobs develop problems like numbness, spinal misalignment, joint pain, neck pain, and herniated discs — usually from sitting too long on a poor quality chair without support. While you probably do not want to spend a lot of money on a chair, a high-quality ergonomic chair is an investment in your health, comfort, and productivity.
In addition to what could cause these problems, the daily life of every Lagosian contains stressful activities. These activities contribute to the causes of backache. Trying to commute to the office or place of business alone could be a hell of a task in Lagos. From the bad sitting chairs in the bus to other inconveniences, one could easily become a victim of a constant backache. Getting to the office on the other hand and using that badly positioned chair only gets to aggravate a bad health status.
Here, I would be reviewing 5+1 Best Ergonomic Office Chairs for Lagos Offices.
Best Ergonomic Office Chairs For Lagos Offices
1. Embody Chair By Herman Miller:
Amongst all office chairs been reviewed, the Embody Chair tops the list. One thing that speaks of this chair is it's unique and well thought out design. The Embody Chair by Herman Miller is the first chair made with a health-positive design, making it easily ranked as one of the top office chairs been reviewed.
Physicians and engineers were consulted to create the specifications for the Embody, which features a unique exposed exoskeleton made to mimic the human spine. The chair's back moves with you throughout the day, keeping your spine in alignment and supporting the lower back, all without any adjustments on your part.
According to Herman Miller, The Embody's back has something they call a "dynamic matrix of pixels" that is designed to stimulate your body's blood and oxygen flow simply by reducing the pressure on your body when seated. Additionally, The Embody is built to automatically adjust to its user back, even when they move allowing lower back support to never dither. All said and done, The Embody is supposed to be so effective it reduces stress and blood pressure.
2. Steelcase Gesture Chair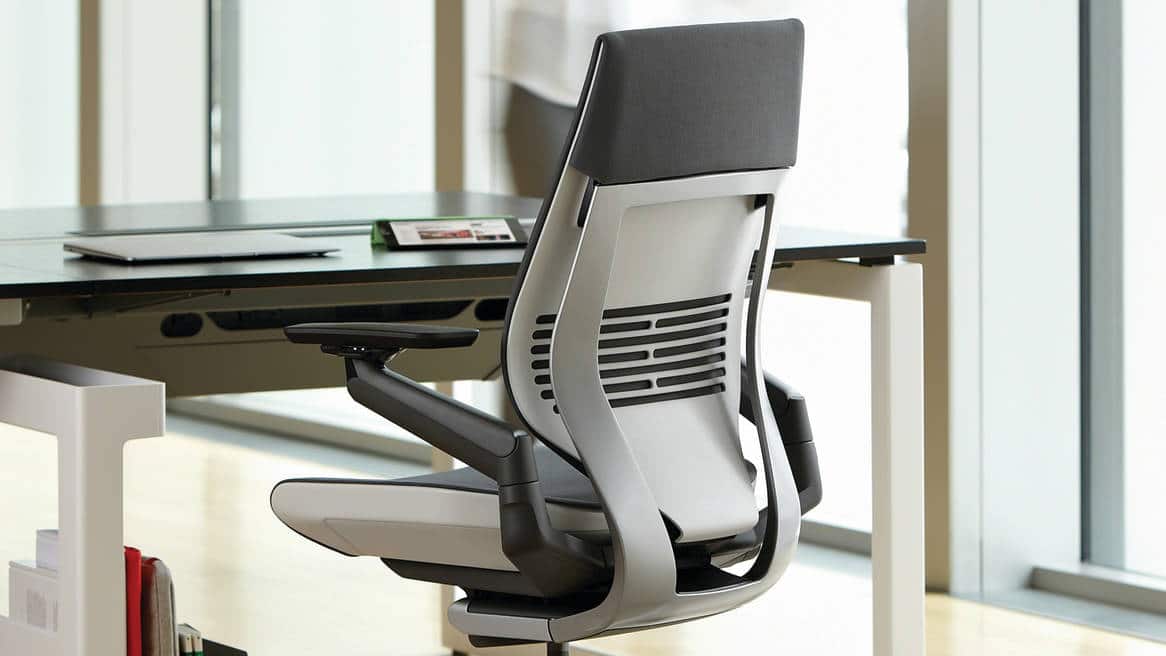 Gesture chair from Steelcase is one of the finest ergonomic office chairs to invest your money on. This revolutionary new office chair is designed to accommodate a variety of natural body positions and sizes, all while supporting and protecting the back and neck.
The Gesture chair is built to support those that use a tablet or smartphone, and based on user experience and reviews it does just that.
The armrests, unlike many other office chairs, can be easily manipulated to accommodate almost any seating style or position. The Gesture chair uses exclusive LiveBack technology that automatically adjusts to your body, mimicking the natural movement of your spine and neck.
3. Steelcase Leap Chair
Another among the list of ergonomic office chairs is the Steelcase Leap chair. This chair uses something called livelumbar technology, which flexes with your body's movements, the Leap is a cut above the average office chair. And while it may look simple there is a great deal of research and development that has gone into building this top-rated office chair.
Other features include a natural glide system that allows you to recline but remain upright and still naturally reach your work, all without hindering posture or pressure on the back.
4. Haworth Zody Chair
The Zody chair is the only chair to ever get an endorsement from the American Physical Therapy Association. As you may expect, this chair puts function over form. The chair isn't unattractive, but its focus on science and ergonomics is what sets it apart.
The Zody chair features a unique asymmetrical adjustment system which allows you to target problem areas like the lower back and make the chair conform to your body. This chair also gets high praise for its passive pelvic support that helps you maintain correct spinal alignment. This simple pad helps you maintain the natural curvature at the small of your back to make lower back pain a thing of the past.
5. Steelcase Leap Fabric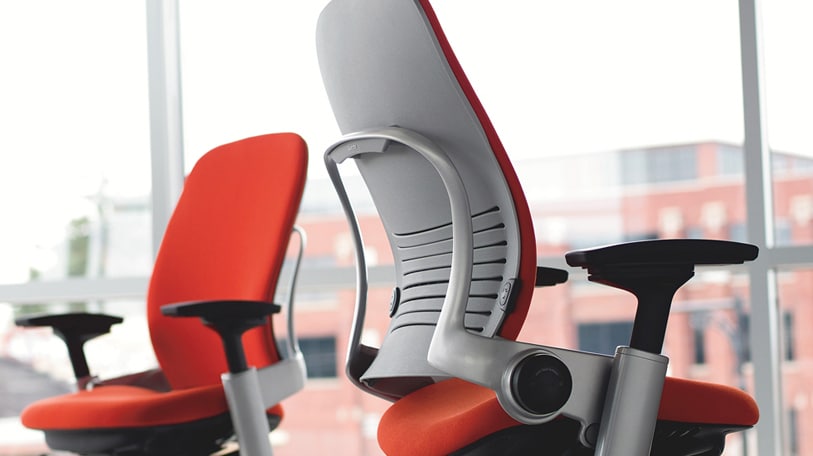 The fact that you can't afford to spend so much on an office chair doesn't mean you should have to settle for an inferior product. The Leap Fabric Chair is the best selling ergonomic chair Steelcase produces, meaning that you can be confident that you are purchasing a reliable and comfortable product.
One of the best features of this chair is Steelcase's patented LiveBack technology. That means that this chair actually conforms to the shape of your back, offering much-needed support and keeping you comfortable for longer periods of time than ever before. The chair also glides to accommodate your posture as you change position or recline, helping to keep your work in focus while helping your back and neck stay comfortable and pain-free.
6. Locust Chair/Workstation
This isn't exactly a chair. Though, only the chair can be purchased.  I'd suggest getting both to maximize the results.
The Locus combines a chair and if so desired, a standing desk. The result is probably the ideal position, as it's half standing half sitting, allowing for more motion throughout the day which is helpful for blood circulation. And because the seat is pneumatic, and at an angle, it adjusts with you as you make micro movement throughout the day.
An ergonomic office chair can do wonders to alleviate lower back pain that can affect you long after you leave work for the day. If you already suffer from back pain, it's important to understand that long hours in a chair compress the discs in your lower back, which eventually begin to wear down and cause sharp or chronic pain. This pain can be severe enough to affect your mobility for the rest of your life. The good news? It's never too late to treat the problem and give your aching back the support it needs.