Sleepwalking in kids is otherwise known as somnambulism. It is when a child wakes up from sleep and is unaware of his/her actions. Usually, this happens between one to two hours after falling asleep and can last for anything near a minute to twenty minutes.
If you child sleepwalks, I know how much of a scare that can be, relax. About 15% of children especially between ages 4 to 8 sleepwalk from time to time and they mostly outgrow it.
Now I must admit that some sleepwalking episodes are really funny and the activities the child engages in are mostly harmless, but they are also unpredictable. There is the tendency that without supervision, they might engage in life-threatening activities such as walking out of the house, losing balance on a stairway or slipping and falling.
Hence the need to address the issue especially when it is too recurrent.
First, it is important that one be acquainted with the causes of sleepwalking; that may be a good place to start protecting your ward.
Causes of Sleepwalking
Sleepwalking is caused by several factors, some of which are: change in sleep pattern, fatigue, genetic factors, stress, illness, fever, a full bladder and sometimes change in environment. Sleepwalking can also be a pointer to an underlying health issue such as migraines, fever and sleep apnea.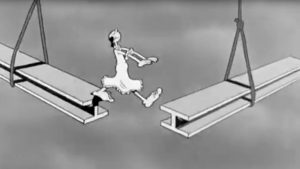 Now to helping your child overcome sleepwalking:
First, you need to understand that sleepwalking is no fault of theirs. This would help you be more patient. Very often, they won't respond when you try to break them out of a sleepwalking episode, and so there is the need for patience.
Next, go see a doctor so that tests can be carried out on your child to ensure that there are no underlying causes. If underlying causes are found, treating can put an end to sleepwalking.
there is a general myth that it is unsafe to awaken a sleepwalking child. While, it is untrue, it is also not advisable. It is best to calmly guide the child back to bed. They often simply fall asleep again and can hardly remember the event when its morning.
You can also try introducing a scheduled interrupt to their sleep pattern. For instance, if from study you have been able to discover when the episodes begin, wake him/her up about fifteen minutes to that time; this disrupts the sleepwalking pattern.
Maintain a safe sleeping environment to prevent the child from sustaining injuries. Ensure the doors and windows are securely locked and use heavy drapes for glass windows and doors. It is also very important to make sure the bathrooms are dry to avoid slipping.
Generally, do your best to prevent them from even sleepwalking.
Maintain a steady bedtime. Ensure they have enough time to sleep.
Create a very conducive sleeping environment: dark and quiet atmosphere, cool temperature, and comfortable beddings.
Ensure your child does not eat or drink too much just before bedtime. Also, limit sugar and caffeine intake once bedtime is near.
In extreme cases, medications might be prescribed by the doctor.
I believe this article has been helpful. If it has, kindly share with anyone you feel would need this information. Your thoughts and comments are also well appreciated. If you have a question on this article or any other health issue, feel free to ask our health experts here.