What are febrile seizures?
Febrile seizures, also known as fever seizures or febrile convulsions, are convulsive episodes that occur in infants and young children as a result of a high fever, typically associated with an infection. Febrile seizures are relatively common and usually occur between the ages of 6 months and 5 years, with the peak incidence around 18 months of age.

How to identify febrile seizures
1.There is a trigger, which is often a rapid rise in temperature. This rapid increase can be as a result of an infection .More often than not, an upper respiratory tract infection, ear infection or viral illnesses, that occur commonly in children.
2. There are convulsive episodes ;febrile seizures are generalized seizures, meaning they affect the entire body. They often involve rhythmic shaking or jerking movements. These can include stiffening or jerking of the limbs, twitching of the face, or rolling back of the eyes.
3. Loss of consciousness:The child may suddenly become unresponsive or unconscious during a febrile seizure.
4. Duration and Recurrence: Most of these seizures are usually brief, lasting for less than 5 minutes. Although a few ones may last up to 15 minutes. Also, they tend to end spontaneously and do not cause any long-term harm to the child. Besides, they are generally isolated events and do not recur frequently. However, some children may experience recurrent febrile seizures during subsequent episodes of fever.
5. Post-seizure confusion or sleepiness: After the seizure stops, the child may appear confused, disoriented, or excessively sleepy. This is known as the postictal phase.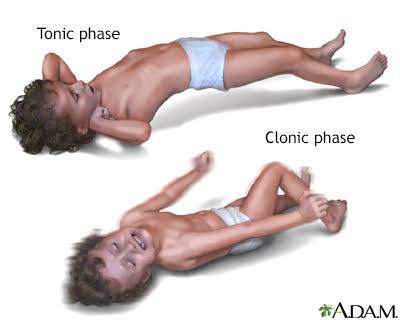 Are there common risk factors?
Here are some of the known risk factors:
1.Family history: Having a close family member, such as a parent or sibling, who experienced febrile seizures increases the risk for a child to have them as well.This is most likely due to a genetic component that predisposes some persons to febrile seizures.
2.Age: As mentioned earlier in the introduction, they most commonly occur in children between the ages of 6 months and 5 years. However, the risk decreases significantly after the age of 5.
3.Magnitude of fever : The risk of febrile seizures is higher when the body temperature rises rapidly or reaches very high levels. Seizures are more likely to occur when the temperature is above 102.2°F (39°C).
4.Rapid fever onset: When a child's temperature rises quickly over a short period of time, there is a higher likelihood of them occurring.
5. Previous febrile seizures: Children who have already experienced one febrile seizure are at an increased risk of having another one in the future.
6. Developmental delays or neurological conditions: If there are pre-existing developmental delays or certain neurological conditions, such as cerebral palsy, there is an increased risk of febrile seizures.
7.Viral infections: Febrile seizures are often associated with viral infections, such as respiratory infections or gastrointestinal infections. Specific viruses, such as human herpesvirus 6 (HHV-6) and influenza, have been linked to a higher risk of febrile seizures.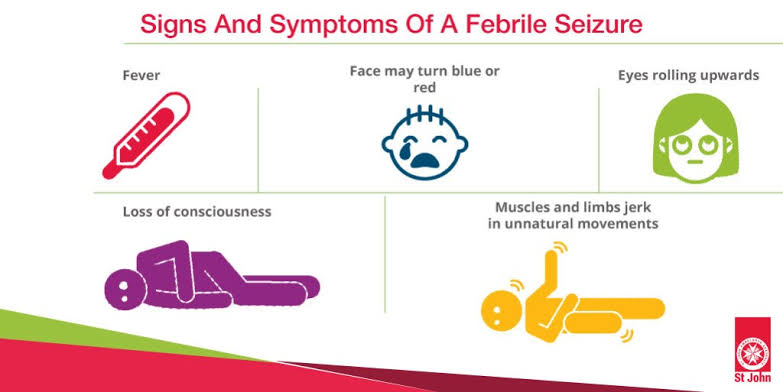 First-aid for febrile seizures
Yes, they can be frightening to witness. However, here is the right way to react ;
1.Stay calm: It's important to stay calm and remember that most febrile seizures are brief and not life-threatening.
2.Ensure safety: Move any objects or furniture away from the child to prevent injury during the seizure. Cushion the child's head with a soft object, such as a pillow or a folded piece of clothing.
3.Time the seizure: Note the start time of the seizure. We know most are very brief, so if the seizures won't stop after 5 minutes, you know to seek medical care rightaway.
4. Protect the child: Place the child on their side to prevent choking on saliva or vomit. This position helps keep the airway clear and reduces the risk of aspiration.
5.Do not restrain the child: Avoid holding the child down or trying to stop their movements during the seizure. It's best to let the seizure run its course.
6.Monitor vital signs : Access breathing by noting abdominal movements with respiration or observing regular bare chest movements. Check the pulse by placing two fingers against the veins at the wrist, just before the palm. If their breathing becomes labored or they turn blue, seek emergency medical help immediately.
7.Comfort the child afterward: Once the seizure has ended, gently reassure the child and provide comfort. They may feel confused, tired, or disoriented, so it's important to offer a calm and supportive environment.
8. To reduce the fever, you can use over-the-counter fever-reducing medications like paracetamol or ibuprofen. Follow the recommended dosage based on the child's age and weight.
Cooling measures: You can also use cooling measures to help lower the child's body temperature. Remove excess clothing, use lukewarm water for sponging the body. Here, evaporation of the water is what cools the body. Besudes, you can apply cool compresses to the child's forehead, neck, and underarms. However, avoid using cold water or ice packs, as this can cause shivering and potentially raise the body temperature further.
9. Lastly, contact a healthcare provider ;we recommend that you contact a pediatrician after the seizure to discuss the episode and receive further guidance on managing the fever and preventing future seizures.
In Nigeria
According to PMC – NCBI the cumulative incidence of febrile seizures is approximately 3%, but this varies widely in Nigeria with values ranging from 10-18%. Hence, from this data we hope that we all realize the need to pay more attention to this condition.
Till next time!
Recommended reading : 3 brain foods for kids