Smoothie express Nigeria!
You can imagine the glow and excitement on my face when I walked into an eatery in Nigeria, Lagos precisely, to find out that for the first time in my life, I didn't need to bother about eating unhealthy food and consuming excess calories in a seating while at the restaurant.
So, for a very long time of my life now, I've always had this very funny and ridiculous mentality) about foods (things generally) being very expensive when purchased in a fancy eatery or store, depending on the item in question (especially in Lagos Island)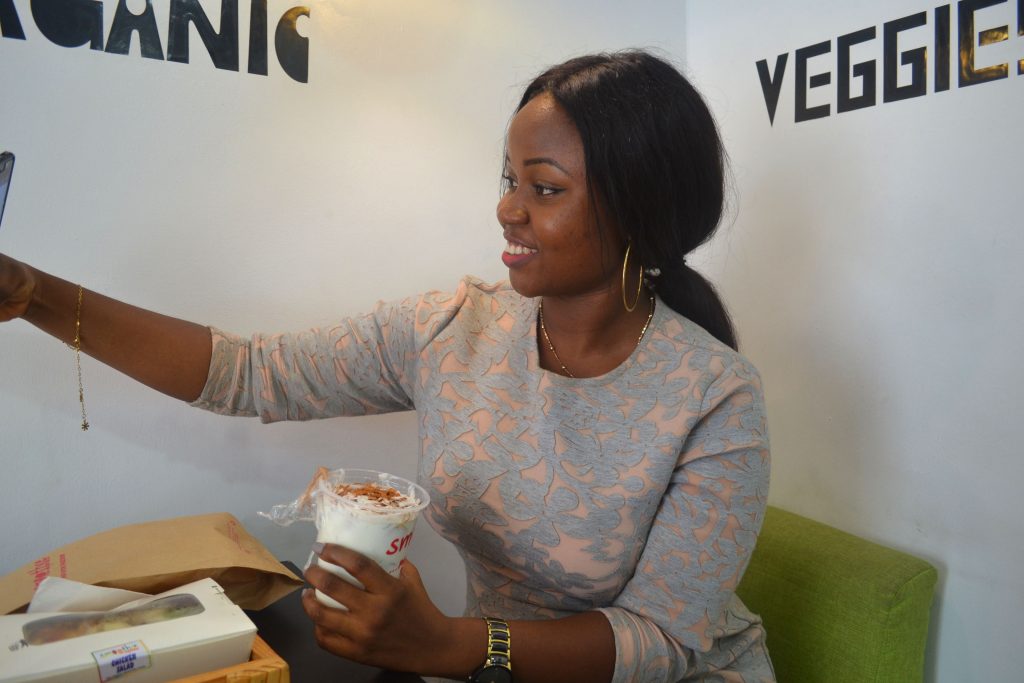 Guess what, I met the shock of my life when I found myself in Smoothie Express Nigeria, stirring at a menu that seemed way too affordable to be true. For a moment there, I could have sworn that I was powerfully asleep. But then again, I wasn't. I was live at smoothie Express Nigeria and I was captivated by the coordination and organization of everything, including their staff.
Anyway back to my story, so I've been practicing healthy eating for a while now and at some point, I was beginning to wonder how on earth I was going to cope and deal with the stress of keeping up with fresh organic food every now and then. Again, only for me to find myself in such a clean, serene, environment (in Lagos) that paid so much attention to healthy eating.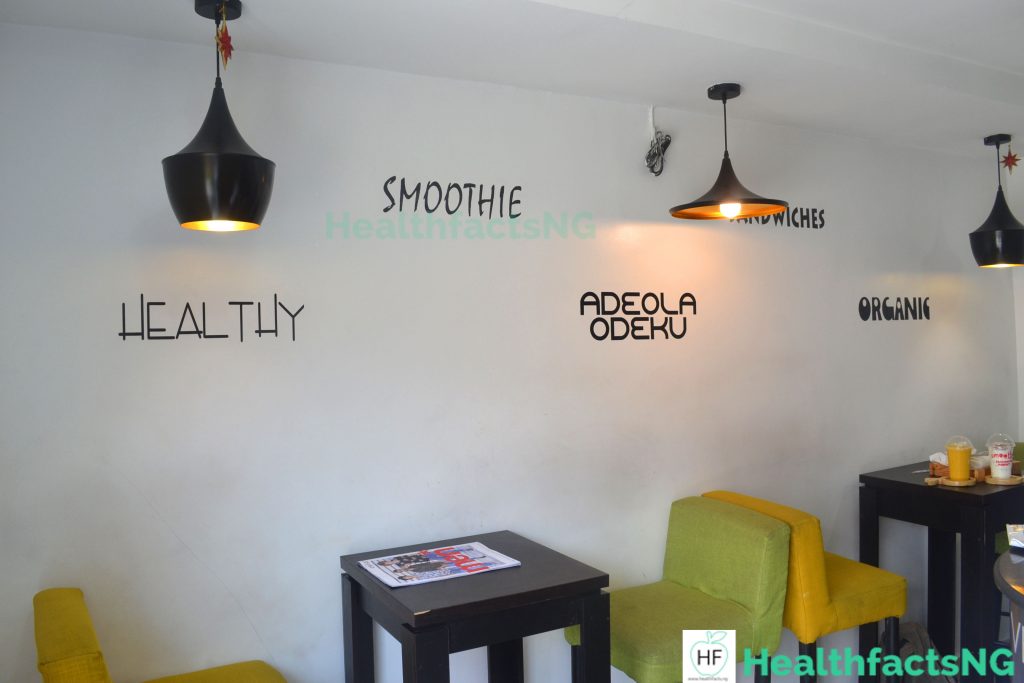 Flipping through the menu to make my orders, I was surprised to find the calorie count of every food item at Smoothie Express Nigeria stated beside each of these items, alongside the ingredients used and the quantity of these items(in gram).
Anyway, I made my order and had it well prepared and packaged to me within a few minutes. (By the day, I didn't eat all of that alone, I was with a friend).
ALSO READ: 5 Tips For Nigerians To Make Healthy Eating A Habit
1. Chicken salad at Smoothie Express Nigeria
Since I've been doing a bit of fit fam and healthy eating for a while now, I can tell when fruits and veggies are fresh from when they are stale. So, trust me when I say that the food items here at Smoothie Express Nigeria are all fresh.
For the chicken salad, each fruit and veggie (cabbage, carrot, lettuce, sweet corn, and kidney beans) had its unique fresh taste intact, making it taste very natural. The chicken was well grilled and spiced/peppered so that you don't feel nauseated or anything of such.
And guess what, for a pack of chicken salad this big and filling, it had just as little as 270cal. Awesome, right? I know!
2. Banana and coconut parfait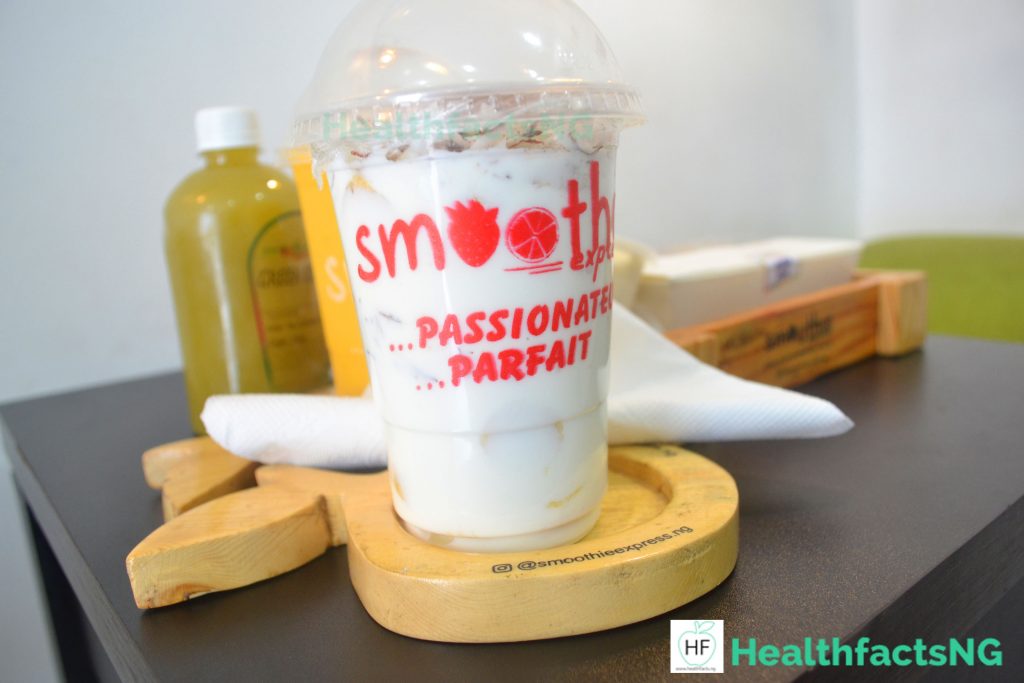 So, for this special smoothie, the truth is, until now, I never knew such a smoothie ever existed. But then, how can I resist the urge to have a taste of such beauty, in the name of a smoothie.
This creamy, filling, chilled banana and coconut parfait had coconut shredded in this mix, with chopped banana, yogurt, milk and the slight natural taste of honey sprinkled with a bit of cinnamon powder. Oh la la! All for just 400cal.
3. Chicken sandwich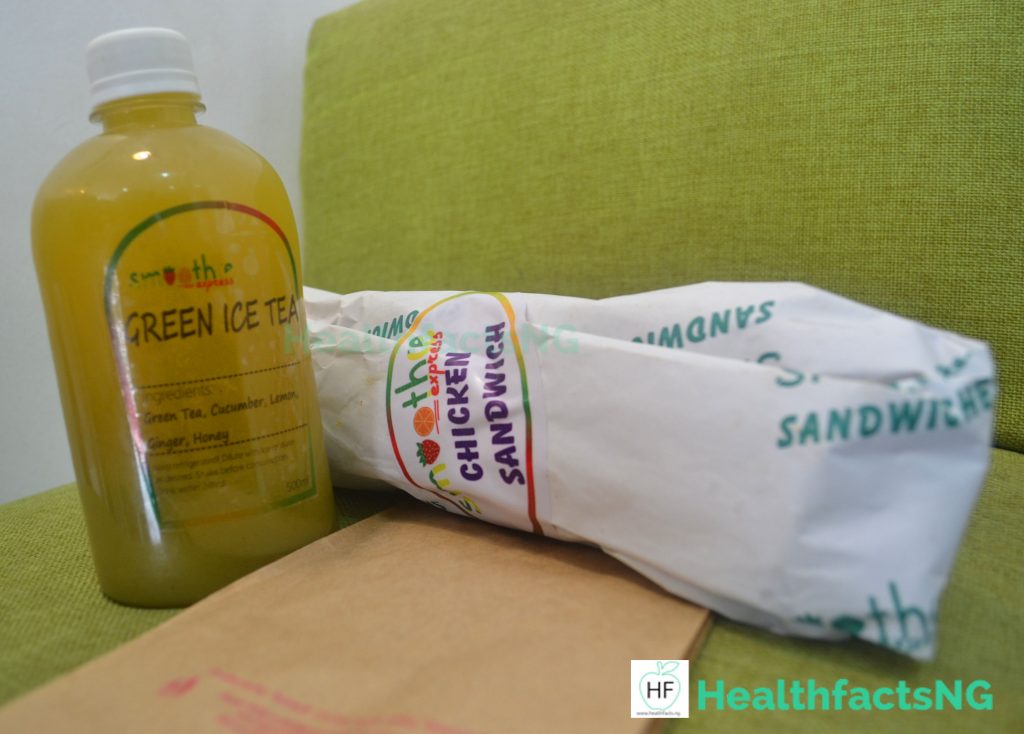 You know what? Wheat bread never tasted any better and rich.
Chicken, sliced egg, cucumber, tomato, lettuce, and mustard spread served as the filling in the soft, fluffy wheat bread- 415cal only.
Good thing, I wasn't there alone. I had someone eat all of these with me and guess what, we were more than filled with eating all of these.
At this point, I could only put a stop to all my eating here. The next time I'm there, I'll definitely try out some more delicacies. Fortunately enough, Smoothie Express Nigeria run an affordable delivery service, which makes it even more convenient for me.
Again, let me do a recap of my experience at Smoothie Express Nigeria.
1. Natural, freshly prepared, organic dishes
2. Extra affordable, including delivery services
3. Really healthy, tasty and filling, with the calories of each dish stated on the menu
4. Incredible packaging
5. Friendly and welcoming staff
6. Super organized and clean environment
Healthy eating just got easier. Thanks, Smoothie Express Nigeria.
Just so you all know that I'm not selfish in any way, I think you all should stop over the next time you're around VI or Surulere. I'm glad I had the Smoothie Express Nigeria experience and I'm sure you'll thank me for this later.
And yes, if you know any restaurant or eatery in Lagos with such great package, kindly send a message to us, info@healthfacts.ng, so that I can go check it out. You know, I love food.
Picture Gallery