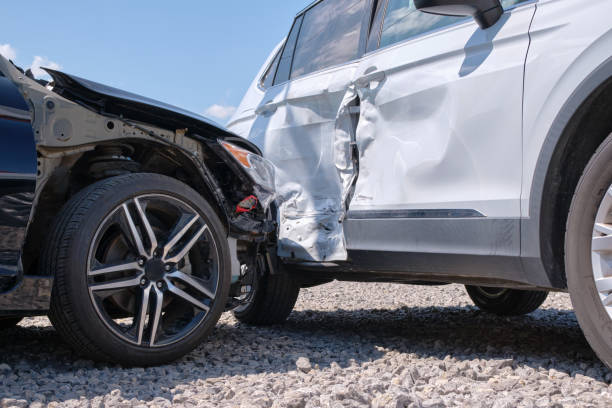 Accidents happen all the time: at home, at work or even in traffic.
Road traffic accidents (RTAs) are quite common in Nigeria owing to factors like bad roads, disregard for traffic rules, poor vehicle maintenance, and a host of others. These accidents occur when vehicles collide with one another; when vehicles collide with pedestrians; or when vehicles collide with stationary objects on the road.
RTAs are Nigeria's third leading cause of death and the number one cause of disability. Considering how rampant road accidents are, you need to know what to do when you witness or experience one.
What to do after an accident
If you happen to witness a road traffic accident, you should do the following:
Stop and help.
Many times, people are scared to help during an accident, for fear of getting harmed or implicated in case something goes wrong. Although those fears are understandable, it is still a good idea to stop and help.
Just make sure you are safe. You can do this by stopping other passersby to avoid being alone, especially around notorious places at night. Also ensure to put up a stop sign, hazard light or some other indicator that will make other vehicles slow down.
Look out for imminent dangers.
While trying to help accident victims, it is important not to get carried away. You should also check for other dangers. The most common danger with vehicle accidents is fire outbreaks. So before attending to the victims, ensure to turn off the vehicle engine, or keep cigarettes away.
Access the situation.
Do a quick survey of the nature of the accident, the number of people involved, the type of injuries sustained and other relevant information. Calm victims are likely to be more critical than anxious or loud ones. If any victim is bleeding profusely, apply pressure on the bleeding site for as long as you can. Make sure to protect yourself, try not to have direct contact with blood.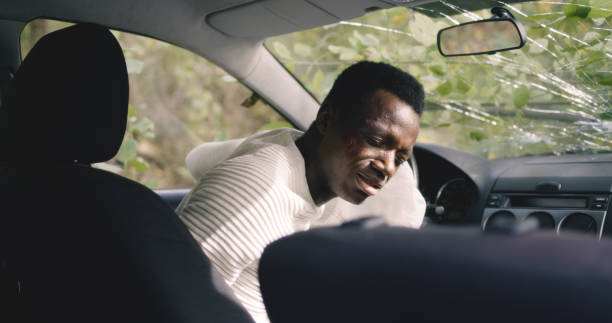 Call for help.
Make sure to call your state's emergency room or a closeby accident and emergency centre or clinic. Give them as much details from your survey as you can, and request an ambulance. You can easily get the contact of those health lines through a simple Google search.
Try not to move the victims.
Many kinds of injuries can be sustained from an RTA. The fact that a victim is still conscious or not bleeding does not mean they have not sustained internal injuries. As much as possible, try not to move victims by yourself. But if they must be moved, take extra care to stabilize the neck because cervical injuries can be worsened by careless movements.
RTA victims should be transported keeping their bodies as straight and immobile as possible.
Ensure medical attention.
Some accidents are more major than others. But even in cases of minor RTAs, all victims must be checked by a medical doctor to exclude the presence of 'silent' injuries.
Types of silent accident-related injuries
Not everyone comes out of an accident with obvious injuries; it is possible to sustain bodily harm without it being immediately evident. Some of these types of silent injuries include:
Late bleeding from trauma sites
It is possible to have delayed bleeding from an open wound or cut. This is because the body responds to the stress of an accident by releasing a large amount of adrenaline into the bloodstream.
Adrenaline constricts (narrows) blood vessels and this may make bleeds appear more minor than they really are, or bleeding may be absent altogether. In those cases, such victims may then begin to bleed minutes to hours after the RTA.
Subdural hematoma
This is one of the most important sequelae of a road accident, especially when there was impact to the head. Subdural hematoma are notorious for causing late symptoms.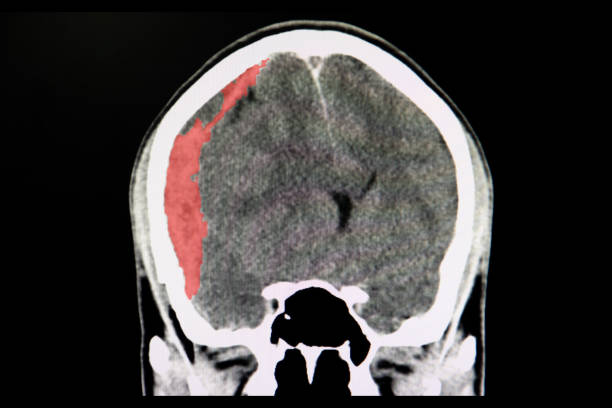 In this kind of brain injury, blood can accumulate in the brain for days or weeks before causing symptoms like headache, altered consciousness or vomiting. This is one of the things a doctor will look out for after an accident. A simple brain CT or MRI can detect the brain bleed at an early stage before it becomes symptomatic and dangerous.
Soft tissue injuries
The soft tissues include structures like muscles, tendons, fascia, and nerves. These body parts can be injured from an RTA without being immediately obvious. Such victims may then present with muscle pains, tingling sensations and numbness days after the accident. Many of these injuries can be detected through physical examinations and x-rays after an accident.
A word from Healthfacts
Road traffic accidents can happen at any time, it is important to know what to do to avoid further harm and prevent major injuries or death. All accident victims must be checked and cleared by a medical doctor before they can be certified as injury-free.
Feel free to comment and share this post with others.
READ ALSO: This is the right way to respond to a Cardiac Arrest