A bleached skin doesn't make you any more beautiful than you already are. Nigerian makeup artist, Teniola Aisha Kashaam definitely realizes that now.
At only 19, Teniola felt she wasn't beautiful and less attractive all because she was dark skinned. So, she felt the need to do the needful, opt for a bleached skin, that way, she'd look more attractive (at least that was what she thought).
Several years down the line, Teniola looks back and wonders where on earth the idea of not being beautiful just because you're black came from.'
Although she has managed to transition her bleached skin to the original black beauty that it once was, Teni regrets ever making such decision.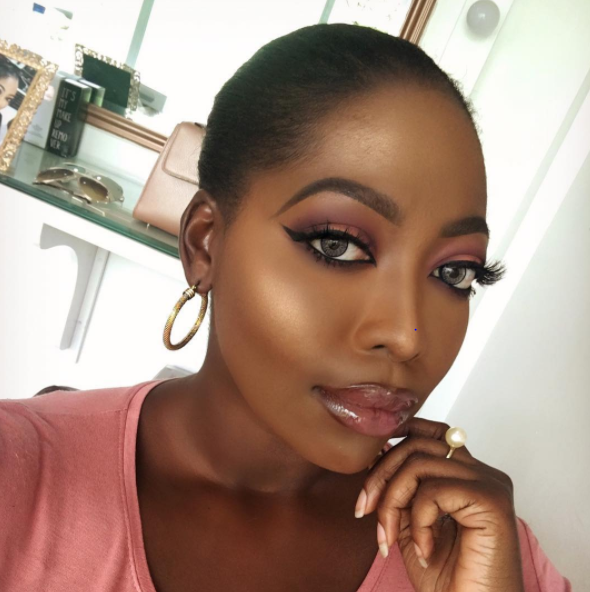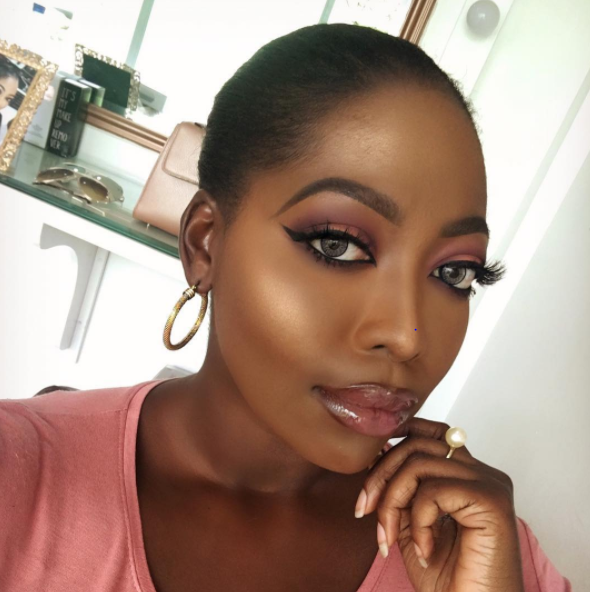 The artist took to Instagram, explaining how she regrets her action and that she's grateful to God that she's been able to transition back in a post she captioned,
"My Road to Melanin
At the age of 19, I started lightening my skin. By the time I was 20, I had become a heavy Skin bleacher. At the time it felt almost normal, I felt like I looked more attractive. It became an addiction, I just couldn't stop. I craved so much to be lighter. I felt being black wasn't beautiful enough.
What a stupid way to have thought. I guess the society we live in played a little role in my decision to bleach my skin, coupled with being very naive at that age. It's widely perceived that the lighter you are, the more beautiful you look.
ALSO READ: EFFECTS OF BLEACHING YOUR SKIN
To be honest I always knew it was a bad thing… I mean, I had seen loads of people with ridiculously damaged skin courtesy the effects of bleaching but I was just so deep into it… like I said it's actually an addiction.
As my 25th birthday started approaching I started to do a lot of Soul searching, a lot of self-evaluation… concerning every area of my life and I finally started to see the light… to see how crazy I had been all these years… how crazy it was for me to have believed that my black skin wasn't beautiful, to have allowed myself to feel inadequate or to try and tell God "how you created me isn't good enough". What a silly, crazy way to have lived.
Today I'm more than grateful that I finally saw the light. Black is beautiful! So beautiful! Never have I ever felt as beautiful and as at peace with my skin tone as I do now… Please Love your skin/Yourself the way God has made you…. you are beautiful, you are enough.
Time will always tell… imagine how I would look 10-15 years from now if I had continued to bleach my skin. Please don't do it… I did it and I Had/ have so much Regret… it's not worth it. You are beautiful just as you are.
I get a lot of messages asking me, how I was able to transition my skin back… I will be sharing all the tips soon enough.
Thank you to everyone who helped me get through this…… the Amount of support I have received is enormous… Thank you."
Thanks to Teniola, a good number of ladies with bleached skin, desiring to go back to their normal skin tone have stepped out to ask for advice as well as commend Teniola for opening up to the general public.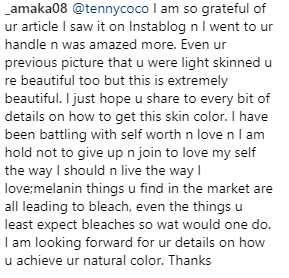 It's no news that the effect of bleaching one's skin poses more dangers than not like skin irritation, skin cancer, premature aging, hyperpigmentation and a whole lot.
However, if like Teniola, you find yourself regretting your action and wishing you didn't to bleach your skin, transitioning to your initial skin tone isn't impossible.
Applying deeply penetrative healing oils like castor oil, extra virgin coconut oil or olive oil on your skin every day can help restore your skins as these oils can draw toxins out of the body due to their healing and highly penetrative power.