Over 800 billion animals are slaughtered each year to cater to the meat demand in the world and the highest percentages of these animals are made up of chicken, cattle and pigs. Only a very tiny percentage of the world consumes rabbit meat. But are people missing out on a lot of health benefits by not consuming rabbit meat?
Are there some advantages to replacing other meat sources with rabbit meat that we are not aware of yet? Today, we interview Pharmacist Eseola Oluwapelumi Andrew, the founder of Omo Eseola Rabbits as he gives us more insights into rabbit meat and it's health benefits
HealthFacts: Can you tell us a bit about yourself?
My name is Oluwapelumi Andrew Eseola. I am the founder and CEO of Omo Eseola rabbits and Harvest, which is a rabbit farming business that is focused on rabbit meat production, rabbit feed production, rabbit accessories, consultation for existing and start-up rabbit farms.
I'm also a Pharmacist from the University of Ibadan.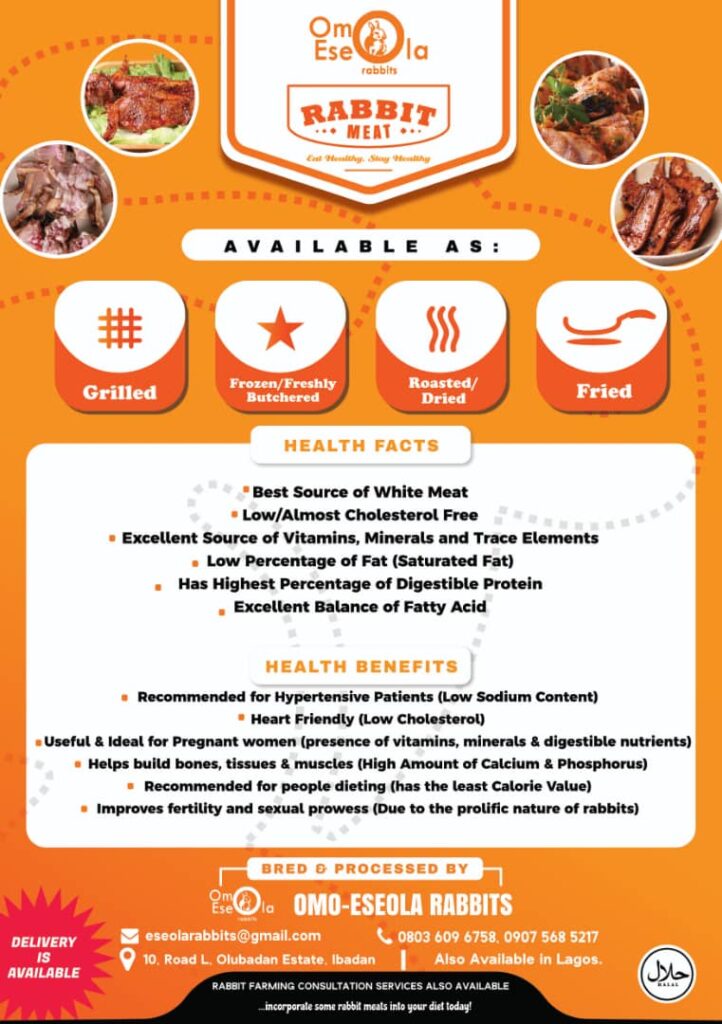 What can you tell us about rabbit meat?
Rabbit meat is a type of white meat and it can also be described as lean meat. The unique characteristics are that it has a very low cholesterol and fat content. The fatty acids are excellent because they contain omega-3 fatty acids. It also has a very low sodium content compared to other types of meat.
It is also an excellent source of vitamins, minerals and trace elements and it is particularly rich in vitamin B-12. It has very soft bone that can be chewed hence it possesses a good amount of absorbable calcium and potassium.
Is rabbit meat healthier than other types of meat such as cow meat or chicken?
Yes. It is much healthier and the reason is what I have described above. It has been proven that rabbit meat is healthier because there are some basic things we look out for in healthy meat such as the lipid profile, the fat and cholesterol content, the sodium content, how digestible the protein is and the vitamin content.
We also look out for the meat being free from disease and if we are to check all these features, rabbit meat falls on the positive side.
Can rabbit meat be used to replace red meat for people with chronic diseases such as heart disease?
Yes, a big yes. This is in fact the major selling point for rabbit meat. A lot of patients with chronic disease conditions have been told to avoid meat and this is because of the fat, sodium and cholesterol content of these other types of meat.
Rabbit meat having a low content of all these makes it a better choice for these patients. It is also a myth that rabbit meat does not contain fat, it does but the fat is low and healthy. Some antidiabetic drugs also have the side effects of causing vitamin B-12 deficiency and as stated above, rabbit meat is a good source of vitamin B-12.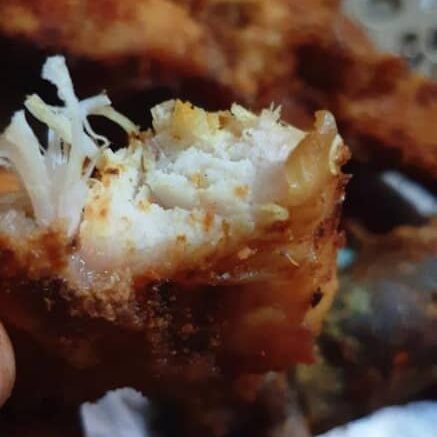 Are there any beneficial long term health effects of consuming rabbit meat?
Yes. As a matter of fact, the health benefits come from the long term consumption not the once in a while consumption. In order to get the optimum benefit from rabbit meat, it has to be something consumed regularly.
Some of our customers are people on a weight loss diet, elderly people also form our customer base and they have given us good feedback.
How much rabbit meat should an average person consume weekly to stay healthy
There is no definite amount but moderation is still important.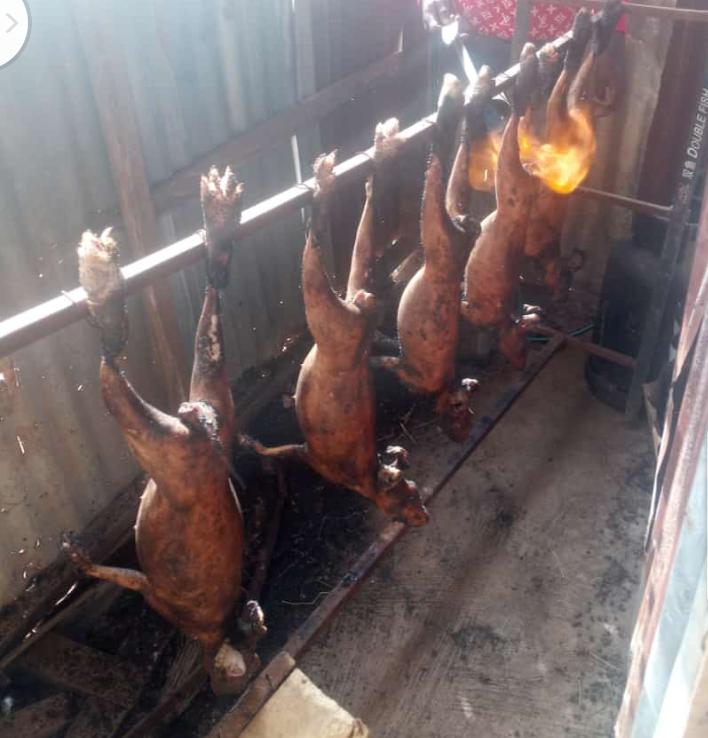 What are the ways in which rabbit meat can be prepared and eaten?
There are various ways which include boiling, oven drying (can be used to prepare vegetables, pepper soup), roasting, frying and grilling. In some countries, rabbit meat is being used to replace other forms of meat like they could have rabbit meat pie instead of chicken pie.
Now, the healthy ways of cooking rabbit meat should still conserve the nutrients of the rabbit and should not increase the salt and fat content. Usually, the best way to prepare is to grill without adding fatty ingredients or boiling. Other methods like frying will increase the fat content.
What is the average price of rabbit meat?
Currently in Nigeria, the average price is about 3000 to 3500 naira per kg for the dead weight, for the life weight (before slaughtering), it's about 2000 naira per kg but farmers are projecting that the prices might increase due to inflation.
Rabbit meat is almost double the price of what we have in Nigeria in the USA.
Can rabbit meat be consumed by all age groups?
Yes, there are no restrictions so far on age.
What does rabbit meat taste like?
The taste is very subjective. It tastes like chicken to some people but is tougher, it's also meatier than chicken and has a unique flavor. If you're taking the grilled or fried one, you might think it's chicken but it's still unique due to its flavor and aroma.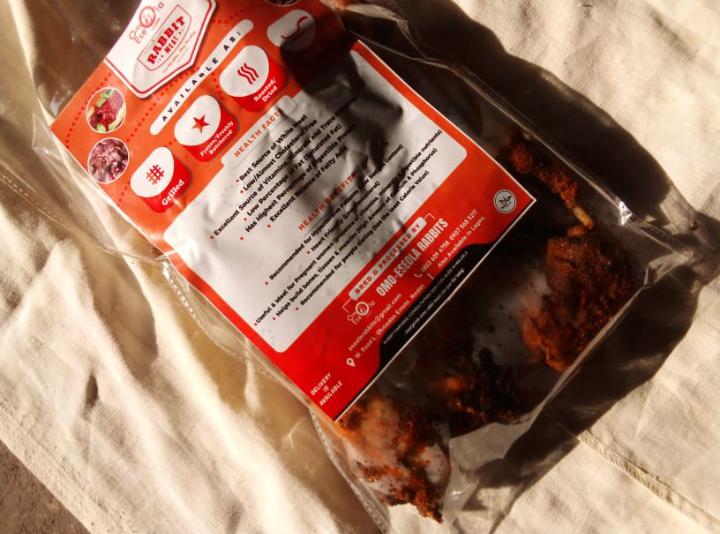 Any other health tip or advice for our readers?
One particular thing people have to note is that health tips have to be followed consistently. It's not enough to adapt to health tips once in a month or a week, they have to be incorporated into our lifestyle.
Health tips should also be embraced holistically (that is don't only follow one part and neglect the rest). Lastly, remember to incorporate some rabbit meat into your diet and you'll definitely see the benefits in the long run.
Thank you so much for this interview, we hope our readers have really learnt a lot through this
It's my pleasure.