One of the major sources of pride for a lady is her body. Every lady no matter her religious orientation takes extra precaution as regards her body not just for health purposes but also for social reasons. A major stress factor for many ladies, especially young ladies, is to have sagging breasts. Ladies do all they can to avoid that like a plague. Any lady with sagging breasts automatically has her confidence level cut down by almost 50% not only when she is with the opposite sex but even with her fellow ladies.
Sadly, at some point in life, every lady will have to come to the reality of sagging breasts but then, who says it has to happen sooner than later
Here are 4 SOLID ways to avoid sagging breasts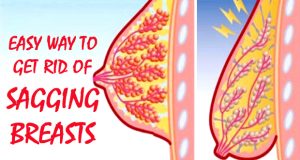 • Wear a Supportive Bra that's really Your Size
You see, whenever you wear a supportive fitted bra that's really your size, how do you feel? But then, do you know wearing a fitted bra gives your breasts the support they need? Yeah, in fact, it helps in reducing the bouncing of your breast whenever you walk.
It as well helps to reduce strains on the skin and ligaments of your breasts and prevent them from stretching out.
• Exercise
One of the best ways to keep your body young and vibrantly fit is by engaging yourself in a regular physical activity, and one of such vital activities is exercise.
Then, as a woman, exercise helps to emphasise the perkiness of your breast. Ensure you wear a well-fitted sports bra during exercise to hold your breast in place.
Always reduce bouncing to the barest minimum and prevent the stretching of the skin and ligaments of your breast.
• Avoid Smoking
Smoking is fun to many, but then, it is the greatest killer because the chemicals in cigarettes harm the collagen and elastin in your skin making it weaker and less stretchy, which causes sagging of the breast and wrinkling of the skin and of the breast. Most women need to be aware that if the skin of their breasts loses elasticity; your breasts will sag, even if you are young. So you should be very mindful of this and avoid smoking.
• Massage
Moisturising your breasts daily with a gentle massage in a circular motion from upside down and vice versa keeps the skin supple and help your breast retain their elasticity, oh yeah. Massaging your breasts helps to increase circulation in the tissues, which helps in increasing the elasticity of the breasts. Endeavour to eat much protein because eating proteins is the best way to heal damages to the skin, connective tissues and muscles.
Some other things to avoid too are:
Weight Fluctuations: Avoid this as much as you can. Try to maintain a stable weight as much as you can. Avoid yo-yo dieting, avoid rapidly gaining and losing weight, and avoid becoming overweight. This is because weight fluctuations tend to stretch out the skin of your breast causing it to sag over time.
NOTE: Breastfeeding Will Not Make Your Breasts Sag! Please trash the unnecessary fear of breastfeeding causing your breasts to sag. Your breasts sag as they get larger and heavier during pregnancy because this process stretches the ligaments of the breast. Regardless of whether you breastfeed or not, over time your breast will still sag. Breastfeeding will not make it worse.
Learnt something? Please share your thoughts about this in the comment box below.