I bite my tongue every time I eat Efo Riro. Lawd!! This soup is the bomb. Call me "olonjeya"(FFO) and you will not be wrong. I fit eat for Africa. This past weekend, I was at an Owambe as usual. I asked to choose either Fried Rice or Semo with Efo Riro. Mehn! That's was a no-brainer. Na Efo staight up.! Me be home boy o. On this post, I want to talk about the amazing benefits of this very delicious soup.
First up, for non-yoruba folks, Efo Riro is basically a vegetable soup. It is baptized with different orisirisi that makes it a delight to eat.
Efo Riro can be prepared with different types of vegetables. You can prepare your Efo Riro with any of the common vegetables. These vegetables include "Efo Tete" (African Spinach) or "Efo Shoko" (Lagos Spinach). You can also use "Gure" (Water leaf) or "Ewuro" (Bitter leaf). If you are exotic, you can use "Amunututu" (Malabar Spinach) or "Efirin" popularly known as Scent leaf.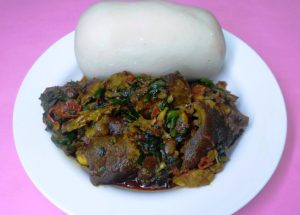 So, what are the health benefits of Efo Riro?
First up, Efo Riro is very low in calories and fats. African Spinach leaves contain a good amount of soluble dietary fibre. This is why dietitians recommend it in controlling cholesterol and in weight loss programs.
When you take Efo Riro, you are gifting your body with a good supply of iron. About 100g of fresh Efo Tete can provide about 25% of your body's daily requirements. Iron is an essential trace element required by your body to produce red blood cell.
Spinach leaves are an excellent source of Vitamin-K. 100 g of fresh greens provides 402% of daily vitamin-K requirements.
African Spinach is a rich source of fibre and water. It aids digestion and prevents constipation.
 Efo Shoko also contains a lot of calcium. It plays a key role in maintaining healthy bones
Now that you know the amazing benefits of this soup, you should take more of it.